NEWS
Tori & Dean Take Their Kids to the Market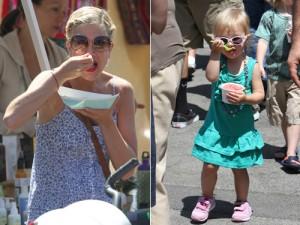 Tori Spelling and Dean McDermott took their adorable kids Liam and Stella to the Farmer's Market in Encino, Calif. yesterday. Liam and Stella got to spend time with "The Guncles" aka Bill Horn and Scout Masterson, who also were out with their daughter Simone. Liam and Stella — or as Liam would call them, Monkey and Buggy, respectively — also got to spend time with their half-brother Jack.
Article continues below advertisement
Just when we didn't think these two kiddies could get any cuter, they proved everyone wrong. Stella was outgoing, just like Mom, and striking poses. And Liam was man enough to carry a watermelon purse!
For those of you who can't get enough of Liam and Stella, follow Liam's Twitter @liamsworld! A recent Tweet from Liam, "I LOVE girls. They just make me happy. They give me a kiss and a tickle." Too cute!