NEWS
Tori Spelling & Dean McDermott Deny Divorce Rumors: "We're a Normal Married Couple"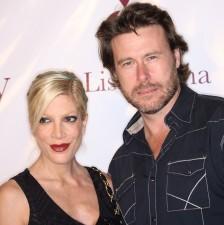 Tori Spelling and Dean McDermott have dismissed reports that their marriage is on the rocks after damning footage of the fifth season of Tori & Dean: Home Sweet Hollywood reportedly leaked.
"We're a normal married couple and I think it gets heightened when it's in the press and you're in the public eye," Tori tells Access Hollywood's Maria Menounos.
OK! NEWS: TORI & DEAN'S MYSTERY VALENTINE
"No relationship is perfect. No marriage is perfect. There's ebbs and flows and we go through struggles just like everyone else."
Article continues below advertisement
Dean reassured fans that a few moments from their show didn't tell the whole story. "They can take a little thing from your relationship and spin it into whatever they want," he said.
OK! NEWS: TORI & DEAN SHOW OFF NUDE PHOTOS IN FRONT OF KIDS
"It starts to feed," Tori added. "The frenzy feeds and then it grows and grows and today we're reportedly divorcing."
Meanwhile, they have distinct roles with their children Liam, 3, and Stella, 21 months. "Is Daddy a bad cop?" Dean asked Liam.
OK! NEWS: TORI & CANDY SPELLING RECONCILING PRIVATELY
"Yeah," Liam said. "And what is Mommy?" Tori said. "Good cop!" Liam said.
The pair would like to expand their family. "We would consider having more," Tori said. "We need a diaper break," Dean added. "There's a lot of diapers and a lot of poop in our life right now."