NEWS
Torrey DeVitto Thinks Hubby Paul Wesley is "Sexy" as Bad Stefan on 'The Vampire Diaries'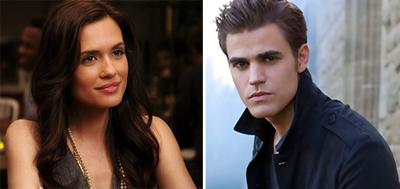 Torrey DeVitto might be married to Paul Wesley, aka Stefan, in real-life, but that's not why she thinks the world of him. The Vampire Diaries newcomer, who plays Dr. Meredith Fell on the CW series, reveals that she's always loved the character Stefan, but his bad guy story arc has really made him that much more exciting to watch.
"I think he's such an excellent actor, and I don't just think I'm being biased," Torrey tells Entertainment Weekly of her hubby Paul. "I think with this arc, he's just able to do so much more and show what he's capable of. It's just been so fun to watch him in that light, completely opposite of what he's been doing the last couple of seasons."
Article continues below advertisement
OK! NEWS: THE VAMPIRE DIARIES RECAP: ELENA TELLS STEFAN SHE KISSED DAMON AND GUESS WHO'S BACK IN TOWN!?
And Torrey thinks she knows why fans are totally into Stefan's bad boy persona — similar to that of Damon's (Ian Somerhalder) — over his typical good guy vibe. "Me and all my girlfriends are like, 'God, this is great. This is great,'" Torrey laughs. "And Paul and other guys' take on it is, 'This is such crap. We're so nice for so long and none of you care, and then all of a sudden we're these jerks and every girl's swooning. What's wrong with you females? You guys are all sick.' I can't even disagree, really. It's true. Why do we go for the bad guys? It's a mystery."
But, she adds, "There is something sexy about danger in someone, I suppose, but when you know underneath that there is someone as redeemable as Stefan is and has been the last two seasons, that's all together a really great character to watch."
As for what viewers can expect from Torrey's character Meredith, the former One Tree Hill star says they'll have to wait and see if what she appears to be is who she really is.
OK! NEWS: THE VAMPIRE DIARIES RECAP: STEFAN RISKS ELENA'S LIFE IN ORDER TO GET TO KLAUS!
"There's a lot of little twists and turns when it comes to Meredith, and it's so hard for me to say anything without giving it away!" Torrey reveals, adding she's a little out of loop of where her character will go as well. "I just keep riding the ride," she says. "Obviously for the sake of Alaric (Matt Davis), I would like for things to work out for maybe a millisecond at least, so that he's not so tragic all over the board. I just hope as the character goes on and I make the TV fans happy and also the Vampire Diaries book fans happy."