NEWS
'The Vampire Diaries' Recap: Stefan Risks Elena's Life in Order to Get to Klaus!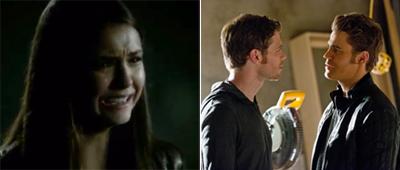 All you members of Team Stelena might be rethinking your decision to root for a certain Salvatore brother after last night's episode of The Vampire Diaries.
Stefan (Paul Wesley) has truly lost all of his human emotion and has gone completely berserk!
After last week's epic kiss between Elena (Nina Dobrev) and Damon (Ian Somerhalder), we were hoping there would be more steamy action between this pair, but instead, Elena decides that kissing Damon was a mistake and that they should stop before it gets complicated. Of course, we know this guilty facade will pass, and Damon will get to make out with his dream lady once again.
Article continues below advertisement
OK! GALLERY: NINA DOBREV, IAN SOMERHALDER & PAUL WESLEY AT THE PEOPLE'S CHOICE AWARDS!
But enough with Delena, this week's episode was focused on Caroline (Candice Accola) and her first birthday as a vampire — which is pretty much depressing considering vampire's don't age. Elena, Bonnie (Kat Graham) and Matt (Zach Roerig) try to get Caroline's birthday spirits up by taking her into the woods to drink a bottle of Jose Cuervo, but that doesn't end well, considering Tyler (Michael Trevino) shows up, begs for Caroline's forgiveness and then bites her (thanks to Klaus' orders). And you know what happens when a werewolf bites a vampire — bye, bye blood sucker.
Article continues below advertisement
But did we mention Stefan shows up at Caroline's 18th birthday celebration too? The good-turned-evil brother kidnaps Elena and threatens to kill her in order to get Klaus to kick all of his hybrids out of Mystic Falls. Since murdering them one-by-one doesn't seem to get Klaus' attention, Stefan decides the only thing that will is Elena, whose blood supply is the one thing keeping the hyrbid breed alive.
But Stefan doesn't just pretend to kill Elena. He makes her drink his blood and then speeds down the road leading to the bridge where her parents were killed years earlier, threatening to drive off while Klaus listens to her screams over the phone. Once Klaus realizes that Stefan will actually destroy Elena, he begs him to stop the car and tells him he will get his hybrids to leave. (Yeah, right).
Article continues below advertisement
OK! NEWS: THE VAMPIRE DIARIES' NINA DOBREV IS NOT ENGAGED TO IAN SOMERHALDER
A distraught Elena runs out of the car and screams at Stefan, who tells her she stopped loving him the minute he left with Klaus and he doesn't care what she thinks of him anymore. OUCH. I know, it was heartbreaking to watch.
As was Bonnie and Jeremy's goodbye at the end of the episode. Yes you heard me correctly, Jeremy has left the building. But someone new has joined the crew, Meredith (Torrey DeVitto), who has a thing for Alaric (Matt Davis), and might be the new villain in town.
What did you think of last night's episode? Did Stefan take it too far? Weigh in!