NEWS
'The Town' Takes No. 1 Spot at Weekend Box Office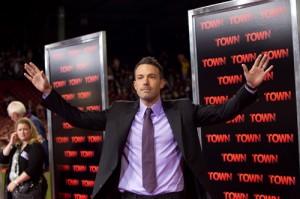 Ben Affleck's second directorial endeavor The Town really excited moviegoers this weekend. The Boston-based crime drama came in at No. 1 at the box office, followed by comedy Easy A and M. Night Shymalan's The Devil.
The Town scored $23.8 million to come out on top Easy A ($18.2 million) and Devil (12.6 million), MTV News reports. Filling in the top five were Resident Evil: Afterlife ($10.1 million) and Alpha and Omega ($9.2 million).
Article continues below advertisement
The thriller is Ben's second directing effort — which he also stars in and helped produce — and is his most successful to date.
The movie is centered around a bank robber (Ben) who falls in love with one of his hostages, causing a rift with his comrades and 37-year-old drug addict girlfriend (Blake Lively).
According to MTV, The Town's $23.8 million this weekend makes it Ben's most triumphant film — his directorial debut Gone Baby Gone reached $20.3 million.
Both Blake, and her boyfriend Penn Badgley, must be celebrating as Penn stars in Easy A opposite Emma Stone! Bet he is proud his leading lady beat him!
OK! VIDEO: BLAKE LIVELY LIKES JASON BOURNE BETTER THAN BEN AFFLECK?