NEWS
VIDEO: Blake Lively Likes Jason Bourne Better Than Ben Affleck?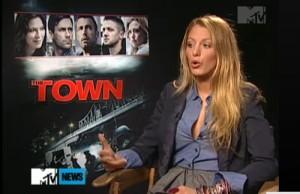 Blake Lively was asked the inevitable during her promotional junket for her latest flick The Town and it wasn't Team Edward or Team Jacob. It was however, a similar battle of hunky men — Team Ben Affleck vs. Team Matt Damon (circa Good Will Hunting). So who did she choose? (HINT: Don't jump to the conclusion that the Gossip Girl star sided with her current co-star!)
"Jason Bourne," Blake told MTV News slyly, referring to Matt's portrayal of the heroic secret spy. "I've never met Matt, but he was told of my obsession with Jason Bourne — but not with Matt," she clarified. "Matt's an amazing actor, incredible, but Jason Bourne? Come on. That's it."
Article continues below advertisement
OK! GALLERY: THE TOWN CAST BRINGS FILM BACK TO HOME BASE — BOSTON
The 23-year-old actress referred to Ben as "Mr. Boston" and speaks very highly of her co-star and director in Boston-based crime flick.
"To get to work with him in a place that embraces him so much, the fact that we had access to Fenway Park, that's something that's pretty rare," she said. "And the resources, the way people opened up their homes to him and to us, because it's a movie he's doing and they know he loves Boston and tells great stories about Boston — true stories — and so people were willing to open up to him because he has a respect for their community that they have so much pride in."