NEWS
Tracy Morgan Apologizes for Anti-Gay Standup: "This Clearly Went Too Far & Was Not Funny"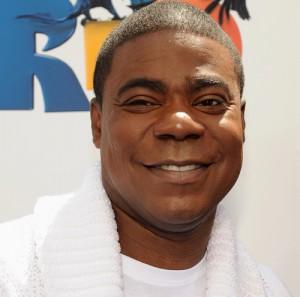 Tracy Morgan has issued a statement apologizing for his recent homophobic standup routine, in which he said if his son was gay he would "stab him," among other anti-gay slurs.
"I want to apologize to my fans and the gay & lesbian community for my choice of words at my recent stand-up act in Nashville," Tracy said in a statement, via The New York Times. "I'm not a hateful person and don't condone any kind of violence against others. While I am an equal opportunity jokester, and my friends know what is in my heart, even in a comedy club this clearly went too far and was not funny in any context."
Article continues below advertisement
On June 3, Tracy performed at the Ryman Auditorium in Nashville, and audience member named Kevin Rogers turned to his Facebook page in a post titled "Why I No Longer 'Like' Tracy Morgan – A Must Read," to express his disgust at the 30 Rock star's homophobic remarks during his standup routine.
Rogers alleges that Tracy went on about how "gay is a choice, and the reason he knows this is exactly because 'God don't make no mistakes' (referring to God not making someone gay cause that would be a mistake)."
He also said that his son "better talk to me like a man and not in a gay voice or I'll pull out a knife and stab that little n**ger to death."
He reportedly ended with, "I don't "f*cking care if I piss off some gays, because if they can take a f*cking d**k up their ass … they can take a f*cking joke."
OK! NEWS: TRACY MORGAN ANGERS GLAAD WITH HOMOPHOBIC STAND UP ROUTINE
Tracy's actions incited the GLADD president, Jarrett Barrios, to respond with the following statement. "Tracy Morgan's management needs to investigate these allegations and should they prove true, we call on him to remove these violently anti-gay remarks from his show and send a strong message that anti-gay violence is not something to joke about."
His 30 Rock co-star Alec Baldwin turned to Twitter to make his brief comment on the situation.