NEWS
Tracy Morgan Meets With Homeless LGBT Youth in NYC & Plans to Visit Tennessee to Apologize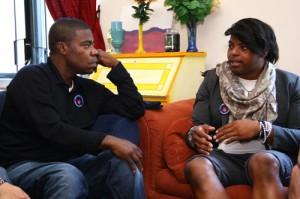 Tracy Morgan met with homeless LGBT youth in NYC through the GLAAD organization today at the Ali Forney Center. The meeting comes after Tracy allegedly made a homophobic rant during his comedy show in Nashville.
OK! NEWS: TRACY MORGAN ISSUES STATEMENT WITH GLAAD — "I KNOW HOW BAD BULLYING CAN HURT"
"Today, Tracy saw firsthand the toll that homophobia and anti-gay violence can take on a person's life," GLAAD President Jarrett Barrios said. "By meeting with LGBT teens left homeless because of who they are, we hope that Tracy has come to understand that so-called 'jokes' about gay youth are not just irresponsible, they are damaging."
Article continues below advertisement
During Tracy's comedy show in Nashville, he allegedly said he would kill his son if he were gay, gay is a choice and gays should stop complaining about being bullied.
The LGBT youth that gathered to talk with Tracy appreciated his visit.
Jayden Love and Raciel Castillo explained, "We really appreciate that we were able to meet with Tracy Morgan, and that he was able to hear our stories of rejection at the hands of our own families and of being subsequently forced to survive on the streets. Raciel's father insisted that his son's sexual orientation was a 'medical condition' that could be 'fixed' through therapy, and Jayden was expelled by her religious family for being who she is. Our parents' inability to accept us changed our lives for the worse."
Tracy plans on returning to Tennessee on Tuesday, June 21 to apologize to people who were offended by his comedy show. He will also meet with the Tennessee Equality Project.