NEWS
Tuesday Night TV Roundup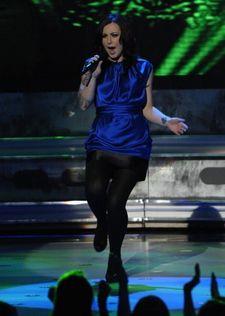 OK!'s Elizabeth Herr breaks down your fave show of the night: American Idol!
American Idol: "I can't remember enjoying a top 12 show this much. Compared to last year, this season is an embarrassment of riches. There's a new set, with lots of bells and whistles. Ricky Minor and the band are perched above the stage, which is kind of cool, and audience members can now come right up to the stage like they're at a concert. Can't imagine Simon's too thrilled to have the hoi polloi all up in his grill, though.
Article continues below advertisement
And this is the first year the show's been able to secure rights for the Lennon/McCartney songbook, which I guess is pretty momentous. Before I get into the performances themselves, let me say that the band was smokin'. The addition of horns and strings and banjos and such makes a big difference. First up, Syesha Mercado had an R&B take on 'Got to Get You Into My Life.' Judged against the rest of the top 12, she is nothing to write home about. There were pitch problems (Randy's go-to gripe this year as every year), and she was just meh.
Chikezie did me a solid by giving props to Danny Noriega before hitting the stage to sing 'She's a Woman.' He's been gradually building up steam the last two weeks, but in no way was I prepared for how out-of-this-world amazing he was going to be last night. An unexpected (but far from unwelcome) bluegrass start led to a foot-stompin' roots-rockin' good time. This guy has the goods. Best performance of the night.
Article continues below advertisement
Anybody would have had a tough time following Chikezie, but Ramiele Malubuy stacked the deck against herself by turning in a dour, boring 'In My Life.' She needed more flash than that tacked-on glory note at the end. Then Jason Castro brought back the guitar and kept on keeping on with 'If I Fell.' It was wholly consistent with who he is — sensitive, pretty, soft — and I still think he's great (the judges, however, did not). I'm impressed with how canny Jason's song choices are; he knows exactly how to work them out for his strengths.
Carly Smithson sounded great on 'Come Together,' but then Simon had to go and compare her to Kelly Clarkson, which is so totally unearned at this point. Kelly was utterly captivating, while Carly is in no way that compelling, at least not yet.
I was worried David Cook couldn't come close to last week's 'Hello' triumph, but oh, god, he was just as hot and awesome as ever on 'Eleanor Rigby.' This is what Chris Sligh wishes he could have been last year. Simon thinks David's got a shot at the win if the show doesn't devolve into a popularity contest, which it definitely won't, right, Sanjaya?
Article continues below advertisement
'Let It Be' wasn't Brooke White's strongest performance; however, her complete emotional investment made it a cut above and one of the best of the night. I find her sincere appreciation of where she is terribly endearing. Then David Hernandez had to go and pick 'I Saw Her Standing There,' which Tiffany ruined for me lo those many years ago. He still has a good voice, but the judges thought he overdid it, and yeah, I agree.
Never expected to say this, but I did not hate Amanda Overmyer. Her Southern-fried 'You Can't Do That' was her best performance, gibberish and all (plus, 'oh chile' was back in full force!). Simon and I are never on the same page about her, though. He inexplicably liked her Joan Jett massacre from last week better.
I finally get why Michael Johns is here! 'Across the Universe' allowed him to show off his range in a way that none of his other songs have. But why did the judges think he should have gone bigger? Were they listening to him at all? That was the biggest he's gone since he's been here.
Article continues below advertisement
Syesha, Ramiele and David H. may be in danger, but there doesn't seem to be any doubt that Kristy Lee Cook will be evicted for her misguided decision to country jamboree her way through 'Eight Days a Week.' You know it's bad when even Paula admits she hates it. Has she ever flat-out said she didn't like something before at this stage of the competition? And she actually made a cogent point: The judges told Kristy she had a natural country vibe, but they certainly didn't tell her to force country arrangements on songs willy-nilly.
Chikezie should be pissed that they let David Archuleta close the show — with the Stevie Wonder version of 'We Can Work It Out' — especially after the wunderkind forgot the words twice and had no idea how not to telegraph that fact to the entire viewing audience. It was an uncomfortable, bottom-three-caliber performance, but his already rabid fan base will likely save him." -- Elizabeth
The Biggest Loser: "In case you didn't know PAM cooking spray is a sponsor of the Biggest Loser along with Ziplock, Quaker Oatmeal, Extra Chewing Gum and Subway. Thanks for the less than obvious product placement guys! I also think Kleenex should be a sponsor because of those Blue Team boo hoo brothers! Those sneaky Biggest Loser producers brought all of the kicked-off Losers back. The man and the woman who have lost the highest percentage of body weight get to rejoin the game. Ali (formerly of the Pink team) is back along with, you guessed it, Mark, cry-baby brotha number 1! So he gets up there to weigh in and guess what happens... he cries. Then guess who cries? That's right! His brother, Jay. Then guess what happens, we have flash back clips... of them doing what you ask? Oh, I know... crying! I've had it with them. I will admit that I am a cry baby. This show used to make me cry... the theme song used to make me cry... now everything just annoys me. Well not the theme song, but these people are so obnoxious. Roger, the bully; the cry-baby brothers, Dan, the rock and roll kid; Brittany, the complainer; Maggie, the potty mouth; and Kelly, the can't-perform-on-challenges person! There has never been a season like this! Man! Bernie was the only saving grace and he is gone. Sorry for this rant, but it had to be done! The challenge had the Losers wracking up kila jewels on stationary bikes and lighting up light bulbs. Dan won and now has two votes at elimination. Brittany and Maggie fell below the yellow line (Maggie lost no weight). Meanwhile we spent the entire episode being a bunch of waa-waa's that there wasn't time for elimination. Forecast for next week: rain." -- Derek