NEWS
TV Personality and Food Expert Alton Brown Shares His Oyster Stuffing Recipe—Plus a Satisfying Dessert!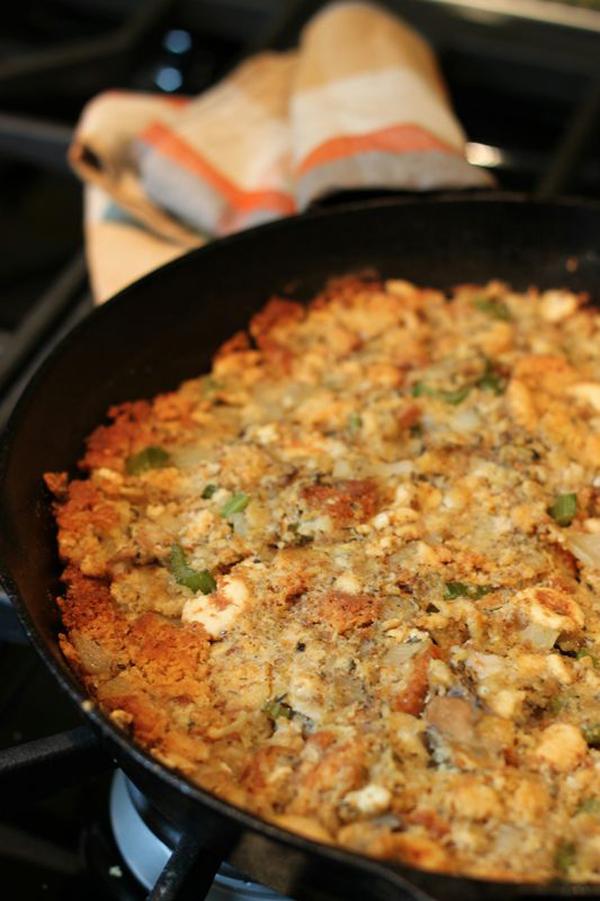 Talk about good eats! TV personality and food expert (you may know him from the Food Network) Alton Brown is just about to make Thanksgiving that much easier. While he's not going to come over and actually prep the feast for you, (but wouldn't that be nice?!) he does have a stuffing recipe that, when cooked, you'll surely stuff your face with. The description may be frank, but when oysters meet Thanksgiving, something amazing happens.
Article continues below advertisement
On top of creating this awing seafood-meets-poultry dish, Alton has been touring the country in his first national tour, Alton Brown Live! Worried you missed it? The second leg of the celeb's marathon takes off in January! The recipe packed with flavor only takes about 45 minutes to cook, which is basically nothing in the grand scheme of cooking. Check it out!
Oyster Dressing Stuffing
Makes: 6 to 8 servings
Active Prep Time: 30 minutes
Cook Time: 45 minutes
Ingredients:
¼ cup vegetable oil
1 large onion, chopped
4 stalks celery, chopped
½ teaspoon kosher salt
¼ teaspoon black pepper, freshly ground
1 pound stale cornbread, crumbled
5 ounces oyster crackers, crumbled
1 ½ teaspoons dried thyme
1 teaspoon dried sage
1 pint small oysters with liquor
Article continues below advertisement
2 large eggs, lightly beaten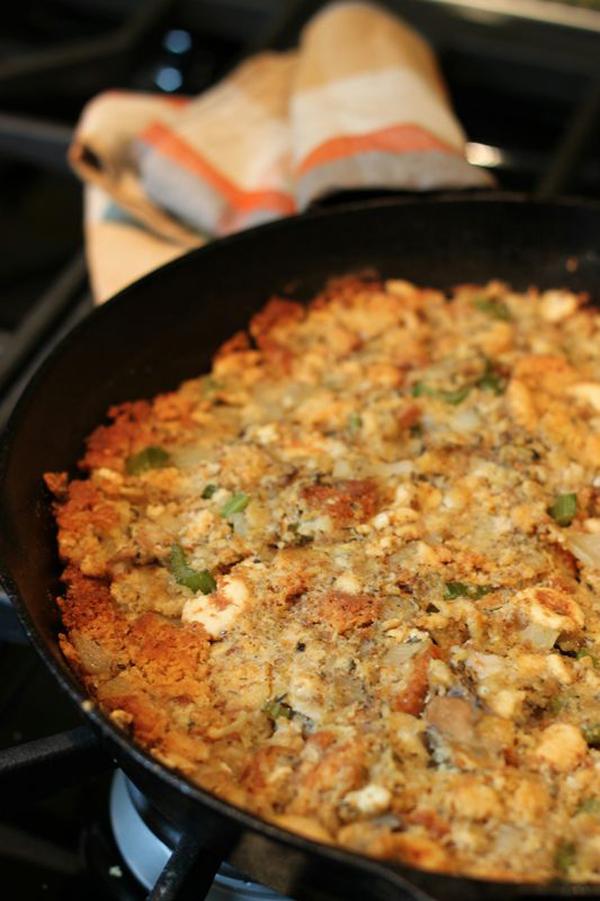 Heat to 350 degrees F.
Heat the vegetable oil in a 12-inch cast iron pan over medium-high heat. Add the onions, celery, salt, and pepper. Cook, stirring frequently, until the onions and celery are translucent, approximately 15 minutes.
Remove the pan from the heat and add the cornbread, oyster crackers, thyme and sage. Add stir to combine well. Add the oysters, their liquor, and the eggs and stir until very well combined. Pat the mixture down into an even layer. Put the dressing on the middle rack of the oven and bake until golden brown and crisp around the edges, about 30 to 35 minutes.
Need a sweet treat to finish the dinner deal? Try out this Sweet Potato Pie recipe from Alton, too!
OK! News: An Exclusive Hunger Games Twist on Your Cup of Hot Cocoa
Sweet Potato Pie
Ingredients:
20 ounces sweet potatoes peeled and cubed
1 ¼ cups plain yogurt
6 ounces dark brown sugar
½ teaspoon ground cinnamon
½ teaspoon freshly grated nutmeg
5 large egg yolks
½ teaspoon kosher salt
1 9-inch frozen pie shell
Article continues below advertisement
1 cup pecans, chopped and lightly toasted
1 tablespoon maple syrup
Put the cubed potatoes into a steamer basket and place steamer into a large pot of simmering water that is no closer than 2 inches from the bottom of basket. Cover and steam for 20 minutes over medium heat or until the potatoes are fork tender. Remove the steamer basket, remove the water from the pot and dump the potatoes back into the pot. Mash the steamed potatoes with a potato masher.
Heat the oven to 350˚ F. Place the sweet potatoes in the bowl of a stand mixer and beat with the paddle attachment. Add the yogurt, brown sugar, cinnamon, nutmeg, yolks, and salt, to taste, and beat until well combined. Set the pie shell on a half sheet pan, fill with batter and smooth out the top. Sprinkle the pecans on top and drizzle with the maple syrup.
Bake for 50 to 55 minutes, or until the pie reaches an internal temperature of 165-175˚ F, the middle should still wiggle slightly. Remove from the oven and for 1 hour cool. Keep refrigerated after cooling.