NEWS
TV Weekly Recap: Real Housewives NYC and Tyson Beckford!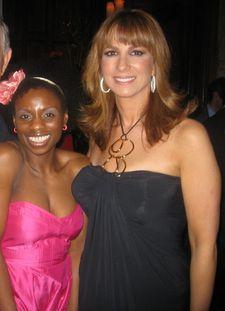 Tune-in Alert: Don't miss former HTGV Design Star 2 runner-up Todd Davis get a rematch tonight on HGTV Showdown. He's competing against Kym Myles, who took the top slot when they both appeared on Design Star, season two.
"Yeah, I'm a little nervous," Todd tells the TV Fanatic, but is certain his redesign of a children's playroom with Jennifer Bertrand will be hard to beat. "The parents wanted something really out there and fun for the kids. So you know, coming from me, going to be unique and daring design."
Article continues below advertisement
Catch Todd work his magic on HGTV Showdown, Sunday, Feb. 15 at 9 p.m. on HGTV.
With V-Day looming tomorrow, I felt it was only right for this available gal to seek out advice from The Millionaire Matchmaker's Patti Stanger.
"Wear bright-colored dresses," she instructed. "It will make you stand out."
So thanks to Diane von Furstenberg and a little touch-up from Salome at Paul LaBrecque salon, I looked and felt like a million when I joined The Real Housewives of New York City in for their secondseason premiere party in The Gilt Room of New York City's Palace Hotel.
Ramona Singer, Alex McCord and Jill Zarin all had their best accessory, their husbands, by their side. I decided to ask the men what they do to make Valentine's special for the ladies they love.
"I always like to write a sentimental card, I think that's important," Mario, Ramona's husband, revealed. "When you been in relationship as long as I have, 16 years, you just talk about all the many things you've gone through in life and how you value your friend ship and love grows."
Article continues below advertisement
Simon van Kempen, Alex's husband, actually prefers the simple things. "Three years ago, I think it was for her birthday, we booked a baby-sitter and just went to the movies," he shared. " It was such a normal evening – no red carpets or parties or fancy dinners. Sometimes when you do something completely different, it's nice."
As for Jill's husband Bobby, "We celebrate our love for each other all year long. Every day is Valentine's Day," he declared. "That's just the way I roll." Bobby also added this gem of advice for newlyweds. "I learned this from a wise old man years ago. Every morning when you wake up, you say I'm sorry. That covers you for the entire day."
The Real Housewives of New York City returns Tuesday, Feb. 17 at 11 p.m. on Bravo.
The next night I ran into Make Me a Supermodel mentor Tyson Beckford during the New York Model Management party at Grace Hotel in midtown. Being a single guy, Tyson was keeping his V-Day plans low-key.
"I've had a bunch of single girlfriends say, let's just go out and get something to eat, but anywhere you go now is going to be crowded. Plus I got to work, so I don't know," Tyson shared.
Well, I'm single too, so if you want to try to find the last reservation in NYC together, Tyson, holla here!
Catch the second season of Make Me a Supermodel beginning March 4 on Bravo.
Until next time, fellow fanatics!