NEWS
Tweet Repeat: Cole Sprouse Speaks Out About His Brother's Leaked Photos, Regis Philbin Joins Twitter and More!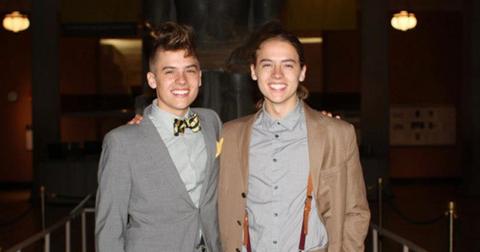 Dec. 16 2013, Published 10:52 p.m. ET
View all comments
Welcome to Tweet Repeat, your daily dose of the best celeb anecdotes found on Twitter. We've scoured the site looking for the funniest, weirdest, goofiest, deepest, craziest, sweetest, most intriguing thoughts of the day, from the most intriguing people on the internet. See what Lucy Hale, Josh Groban, Bethenny Frankel, Zach Braff and more were up to in the Twittersphere today.
How crazy is it that a soda company created Santa Claus? Now that's the power of branding!

— Bethenny Frankel (@Bethenny) December 16, 2013
What I would do for someone to meet me at my house in an hour & give me a hot stone massage without ruining my eyelash extensions...

— Dina Cantin (@dinamanzo) December 17, 2013
And yes I may be the only person to not have updated their phone to ios7 yet. Procrastination nation over here.

— Lucy Hale (@lucyhale) December 16, 2013
Does sitting in a dark room and remembering your worst failures count as a workout? I'm definitely sweating

— Sara Schaefer (@saraschaefer1) December 17, 2013
I'm hearing a very strange rumor that @regis is on twitter!! It's the end of civilization as we know it! No one is safe! Hide the children!!

— Kathie Lee Gifford (@KathieLGifford) December 17, 2013
Article continues below advertisement