NEWS
'Twilight Saga: Eclipse' Takes Over Oprah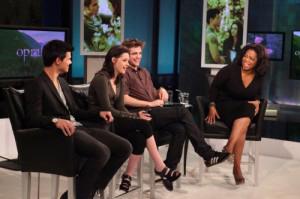 The special Twilight Saga: Eclipse episode of Oprah finally aired today (Robert Pattinson's 24th birthday!) and it's everything we were hoping it would be! From Kristen Stewart's shyness and Taylor Lautner's abs to Dakota Fanning's older friend and Rob's beauty, Oprah Winfrey covered it all!
OK! GALLERY: HAPPY 24TH BIRTHDAY, ROBERT PATTINSON!
After the fans stopped screaming, Oprah pointed out that Kristen's known for being shy (making Kristen blush) and gave her a big hug to help her out!
Article continues below advertisement
"I get so nervous," Kristen explained to her fans. "This means a lot to you guys, and it's the same deal for me. I understand that your words have weight and I mince them when I know that everybody's waiting for them, you know what I mean?"
"Most people's favorite book is not a part of their lives," she added. "I feel like I've brought more of myself to Bella than any other character. I can also completely relate to the fact that she's totally awkward, but that she owns it and she's not going to say anything she doesn't mean."
Article continues below advertisement
But other than working hard at working out, Taylor claims he doesn't have much else going on accepting watching American Idol and Celebrity Apprentice!
"I'm bored on Saturdays," he said and admitted that his good guy image is true.
"It's just the way I was raised by my parents and my family," Taylor said on how he's never smoked or drank alcohol.
OK! VIDEO: NEW ECLIPSE CLIP OF DAKOTA FANNING AND THE VOLTURI!
And when Dakota took the stage she got to reunite with her good friend Kristen!
"I've gotten to know her very well, especially doing The Runaways, Dakota explained. "She became one of my best friends."
"I'm 20, Dakota's 16, and I've always had friends that are older than me… and I call her for advice," Kirsten added.
OK! COVER STORY: ROB TELLS OPRAH — KRISTEN'S PREGNANT!
And then there's the birthday boy, Rob.
Turning red several times on the show, he still seems surprised to be so adored.
This year the Twilight heartthrob has been named Most Beautiful and Most Influential.
"It's crazy. It just seems completely ridiculous," he said. "Three years ago I wouldn't be able to influence my dog to walk."
A lot can change in three years!