NEWS
U2's Bono Undergoes Emergency Back Surgery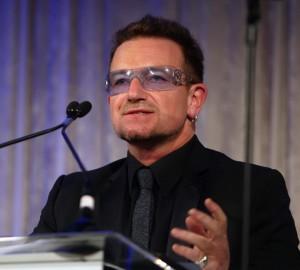 U2 front man Bono was taken to a Munich hospital today after sustaining a back injury that required immediate surgery while preparing for the band's tour.
"He was admitted to a specialist neurosurgery unit in a Munich hospital, and is under the care of neurosurgeon Prof. Dr. Jorg Tonn and Dr. Muller Wohlfahrt," a statement was released on U2's website on Friday.
"Bono will spend the next few days there, before returning home to recuperate."
Article continues below advertisement
Since the musician will be staying in the hospital for a few more days, his group's "360 Degree" tour will be delayed, but picked back up as soon as possible.
HAITI TELETHON RAISES $57 MILLION AND COUNTING
"We are really looking forward to getting back on the road…Its unfortunate that we are inconveniencing fans. We will make plans to reinstate the dates as soon as possible," U2's manager Paul McGuiness revealed.
The 50-year-old was injured in Germany as he prepared for the next part of the band's tour, scheduled to begin on June 3 in Salt Lake City and continuing in parts of North America.
"We hope to get things resolved as soon as possible… You will get the information as soon as we can get it out to you," Paul concluded.