NEWS
The Ugly Truth Helps Kim Kardashian Get Over Reggie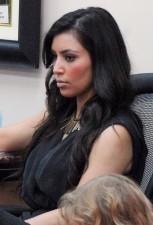 Hollywood's latest single du jour, Kim Kardashian, is following in the example of Jessica Simpson by staying busy with friends to get over her break-up from her pro-football ex-boyfriend. And what better way to mend a broken heart than by watching The Ugly Truth?
Accompanied by friend and fellow reality star Brittny Gastineau, Kim caught a screening of the romantic comedy at the The Grove in L.A. last night. And according to witnesses, "They sat toward the front of the theater and weren't talking much, or even thumb-pounding away at their BlackBerrys."
Article continues below advertisement
Reality TV's most famous rear end was dressed down for the girls' night at the movies, not wearing much makeup and her long hair, which is typically curled and cascading down her shoulders, was tied back away from her face.
Also absent were the usual stiletto heels and cocktail dresses, replaced by baggy gray sweats. "She looked rather sad," one witness tells OK!. "She sat in her seat with a semi-pensive look on her face and her arms were crossed around her chest."
And apparently Kim either didn't care how the movie ended or she'd had enough of Gerard Butler's character's crude and brutaily honest advice about dating — because before the laugh-out-loud movie ended, she and Brittny had already left the building.
The truth might not hurt, but it can make anyone uncomfortable. Right Kimmie?
BY PATRICIA RAMOS