NEWS
'The Vampire Diaries' Star Nina Dobrev Shows Off Her Best "Vampire Face" on 'Conan'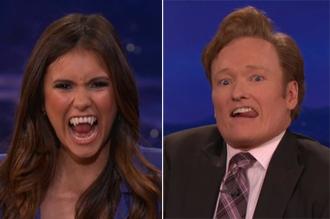 Article continues below advertisement
"It seems to me that it's very important to have the correct vampire face," Conan told Nina. "There does seem to be a required face that a vampire must make just before biting into the neck."
"Yeah, absolutely, because you have to be vicious and sort of scary and scare the audience, but then you're drinking this fake blood which is really actually disgusting in real life. It's corn syrup mixed with all this other stuff," Nina explained. 
"So you have to sort of look seductive and sexy and yet at the same time scary and mean," she added. 
"That's what I've noticed," Conan responded. "It's a combination of 'I'm terrifying, but I'm also arroused and sexual' at the same time." 
Then, Conan revealed he had Nina's vampire teeth from the set handy and asked her if she could give him and the audience, which included guest Joel McHale, a demonstration of her best "vampire face."