NEWS
'The Vampire Diaries' Recap: Alaric is Officially Evil & Klaus is Finally Dead (For Now)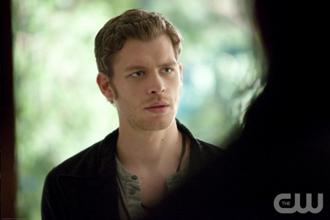 Are we sure last night's episode of The Vampire Diaries wasn't the season finale? Because it sure seemed like it! In the second-to-last episode, titled "Before Sunset," a new villain takes over Mystic Falls and an old one kicks the bucket. Yup, dead, done, gone. 
It all begins with Alaric (Matt Davis), who if you don't remember is now a super-powered vampire, vampire hunter. His first victim? Caroline (Candice Accola), who happens to be cleaning up the high school gym following that disastrous decades dance. Alaric holds Caroline hostage in his classroom, torturing her until Elena (Nina Dobrev), who found out he was alive thanks to an ominous phone call, comes to meet him. 
Article continues below advertisement
OK! NEWS: THE VAMPIRE DIARIES RCAP: ELENA & STEFAN REKINDLE THEIR ROMANCE AS TRAGEDY STRIKES MYSTIC FALLS 
Meanwhile, Klaus (Joseph Morgan) found out from Rebekah (Claire Holt) that Alaric is now a vicious vampire looking to kill the Originals, so he decides he needs to get Elena and leave town. When he goes to the Gilbert house to claim the doppelganger, Stefan (Paul Wesley), Damon (Ian Somerhalder), Bonnie (Kat Graham) and Jeremy (Steven McQueen) let Klaus know — after he tries to force them to invite him in — that Alaric has Elena and they need to find a way to kill him before he destroys them all. They decide that Bonnie will stop Alaric's heart with a spell that will also force her to stop a human heart. Of course, Jeremy offers his services and the plot thickens. 
When Elena comes to Caroline's rescue, Alaric threatens her and tells her that if she doesn't kill "blondie," he will and it won't be pretty. But knowing Elena, she finds a way out of the problem, sets Caroline free and then gets tortured by Alaric herself. 
So when Stefan, Damon and Klaus arrive at the high school and get beaten up by Alaric, Elena tests her former guardian's humanity and threatens to kill herself. When Ric flips out, Elena realizes that Esther (Alice Evans) linked his blood line to hers, meaning if she dies, he dies.
Article continues below advertisement
Klaus then "rescues" Elena from the grips of Alaric, takes her to his place and begins to follow through with his own evil plan. He drains Elena of all her blood — which is necessary for him to make more hybrids — and tells her that she's going to die. Well, that is until Tyler (Michael Trevino), who secretly broke his sire bond when he took that little vacation, tells Klaus he's no longer his "little b**ch" and saves Elena before Damon and Stefan burst through the door and grab Klaus.
But when Stefan makes contact with Klaus' heart, Bonnie starts her spell, stopping Jeremy's heart while stopping Klaus'. That's right, Klaus is finally DEAD. (At least for now...) And don't worry, Jeremy is alive. 
When Elena arrives back home with Stefan and Damon, she lets them know that she realizes she's stringing them both along, but she doesn't want to make a choice because that that means she'd lose one of them for good. And we all know she's lost enough people already. 
Article continues below advertisement
OK! NEWS: THE VAMPIRE DIARIES, SUPERNATURAL AND 90210 RENEWD BY THE CW! 
So, with the love triangle situation still up in the air, Elena walks into her house and finds Jeremy, Matt (Zach Roerig), Caroline, Bonnie and Tyler having a "Klaus is Dead" party, complete with tequila shots. When the celebrations are over, Elena heads back upstairs to finish painting Alaric's room, but in the process, collapses on the floor. (Well come on, what kind of person who has just been drained of blood takes tequila shots and wiffs paint fumes all within an hour?) 
In the meantime, Alaric is having his own little party, with the founders club. He lets everyone know that their leaders Sherrif Forbes (Marguerite McIntyre) and Carol (Susan Walters) have been keeping a deep dark secret and actually protecting supernatural beings in Mystic Falls. Liz's daughter Caroline, the vampire, and Carol's son Tyler, the hybrid. 
Now we have two more people to worry about... Bye, bye Klaus, hello Alaric.