NEWS
'The Vampire Diaries' Recap: Elena & Stefan Rekindle Their Romance After Tragedy Strikes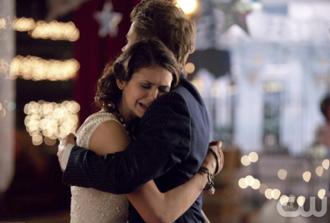 Did anyone cry their eyes out during last night's episode of The Vampire Diaries? Cause we sure did! Not only did we say goodbye to one of our favorite characters, but it turns out we should prepare to say goodbye to Delena too, because Stelena is back and seemingly stronger than ever. 
That's right, Elena (Nina Dobrev) and Stefan (Paul Wesley) have rekindled their romance making Damon (Ian Somerhalder) a thing of the past, despite that hot and heavy makeout session last week. (Ugh). And let's face it, if it wasn't for Caroline (Candice Accola) — who's lovestruck herself these days now that Tyler (Michael Trevino) is back in Mystic Falls — Elena might have asked Damon to escort her to the decade dance, but instead, our favorite little doppelganger asked Stefan, who of course said yes. 
Article continues below advertisement
OK! GALLERY: VAMPIRE DIARIES STARS NINA DOBREV & IAN SOMERHALDER GET COZY AT COACHELLA! 
But as we all know, Stelena and dances don't mix, so although everyone slipped on the slinkiest flapper outfits, the dance didn't turn out as planned. Esther (Alice Evans), who returned to her original body and ditched Rebekah's (Claire Holt) with the help of her new friend Alaric (Matt Davis), showed up at the dance and demanded that Elena come with her. Of course, Elena goes, not realizing that Esther has trapped all her supernatural friends in the gym with a spell.
So, Ester takes Elena to the cemetery where she's keeping Alaric, who she plans on turning into the ultimate, bad a** vampire vampire slayer. Yup, a vampire who slays vampires. (Of course, Elena gets to witness the transformation due to the fact that Esther needs the blood of the doppleganger to create this monster). Also, apparently Esther has been talking to Alaric from "the other side" everytime he dies, getting to know him and preparing him to complete the task of destorying the originals. (Yeah, oh crap.) 
Article continues below advertisement
But before Alaric's transformation is complete, our lovely human friends Jeremy (Steven McQueen) and Matt (Zach Roerig) arrive to rescue Elena and almost get killed themselves before Alaric stabs Esther in the back (literally) and sends her back to where she belongs. 
But sadly Alaric, knowing what he will become, decides not to complete the transformation and lets Elena and Jeremy know that he's choosing death. And in one of the most touching moments in TVD history, the entire cast says goodbye to Alaric outside of the tomb he will soon pass away in. No!
So once again, the Gilbert children are losing another person they love, something Elena just can't bare the thought of. 
OK! NEWS: VAMPIRE DIARIES RECAP: STEFAN TELLS ELENA HE "NEVER STOPPED LOVING HER," BUT DOES SHE LOVE HIM? 
In her deeply emotional state, Elena finds herself back in Stefan arms, who reassures her that because of her trust in him — despite his change into Klaus' (Joseph Morgan) blood-sucking right-hand man — he has found his way back and wants nothing more than to be with her. When Elena begins to sob and tell him she's alone and has no one, Stefan wipes her tears and says, "You have me." 
Article continues below advertisement
And good thing she does, because as it turns out, Elena is going to need as much help as she can get. Despite the fact that Alaric died beside his best buddy Damon — who might we add, shed a tear or two after losing his friend — it turns out Esther haunts Bonnie's (Kat Graham) dreams and told her to go and finish what she started. So the little witch that could, does. So Bonnie, who just helped the vampires try and stop Esther from destroying Alaric, feeds Alaric her blood and now... there's a new villain in town. 
What did you think of last night's episode "Do Not Go Gentle"? Weigh in!