NEWS
'Vampire Diaries' Recap: Damon Tricks Rebekah Into Sleeping with Him & Alaric Stabs Meredith!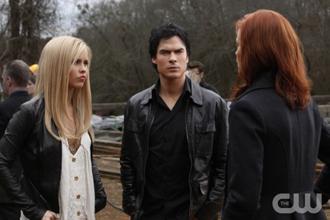 Forget about the love triangle between Damon (Ian Somerhalder), Stefan (Paul Wesley) and Elena (Nina Dobrev), there's a new threesome in town.
On last night's episode of The Vampire Diaries, Damon and his long lost vampire friend Sage (Cassidy Freeman) — who's really in love with one of the Originals, Finn (Caspar Zafer) — trick Rebekah (Claire Holt) into sleeping with him so that they could find out her thoughts. (Yeah, complicated, we know).
Article continues below advertisement
OK! NEWS: VAMPIRE DIARIES RECAP: DAMON TRIES TO SAVE STEFAN'S "HUMANITY" & ALARIC GETS A MAJOR SHOCK!
Sage has the ability to read people's minds when they're at their most vulnerable state. So getting it on with Damon unleashes Rebekah's inner desires, which happened to revolve around finding and destroying the White Oak Tree that will kill off her family. The thing is, the tree was used to make the Wickery Bridge, which Damon realizes after Sage tells him why Rebekah has been creeping around lately.
But when Damon goes to the bridge to assess the situation, he discovers Sage betrayed him and told Rebekah, so she could protect her "one true love" Finn, who might we add is the one Original who actually wants to die. Ironic.
So after Damon tells Sage that Finn has a death wish and doesn't love her the way she loves him, our favorite Salvatore sneaks off and steals the Wickery Bridge sign, which happens to be made of wood from the White Oak Tree. (This will come in handy when he tries to take down Klaus (Joseph Morgan) and his vampy siblings).
Article continues below advertisement
But other than Damon drama this week, there was tons of Alaric (Matt Davis) drama, you know, that guy who's going crazy and killing people in Mystic Falls thanks to his "life-saving" ring.
As Elena works with Stefan to try and figure out what the heck is going on with Alaric, Meredith (Torrey DeVitto) watches over him to make sure he doesn't do anything he'll regret. Sadly, the babysitter act doesn't help and Alaric has one of his psychotic episodes. He chases Meredith and stabs her before she locks herself in the bathroom and slowly bleeds to death.
Article continues below advertisement
Also in this episode, Bonnie (Kat Graham) and Caroline (Candice Accola) struggle to help Abby (Persia White) adjust to being a vampire. After she accidentally bites her adopted son Jamie (Robert Ri'chard), Abby decides the best thing to do is skip town and abandon her daughter once again. Poor Bonnie!
Plus, Jeremy (Steven McQueen) makes an appearance! That's right, the hottie human is back on screen, but not back in Mystic Falls, sadly. Elena, who's struggling to save Alaric and live as one of the only humans among supernatural beings, calls her baby bro to reconnect to a normal life.
We hope this little phone call brings Jeremy home... we miss him!
What did you think of this week's episode? Share your thoughts below!