NEWS
'Vampire Diaries' Recap: Stefan Tells Elena He "Never Stopped Loving" Her, But Does She Love Him?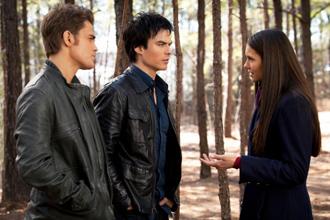 Alright, we have to admit, our heads sort of hurt after watching last night's uber-fantastic episode of The Vampire Diaries. Not only did we get our fill of the Stefan-Elena-Damon love triangle, but we watched some people die, which can be sort of depressing, yet totally entertaining.
OK! NEWS: THE VAMPIRE DIARIES IS BRINING BACK AUNT JENNA! WILL SHE SAVE ALARIC?
Now that Damon (Ian Somerhalder) is in possession of Wickery Bridge sign — made out of wood from the White Oak Tree — he and Stefan (Paul Wesley), with the help of their buddy-turned-killer Alaric (Matt Davis) make 12 stakes they can use to kill the Originals, who might we remind you are linked thanks to mommy dearest Esther's (Alice Evans) spell. If one Original dies, they all die.
Article continues below advertisement
Well, that quickly changes when Klaus (Joseph Morgan) threatens Bonnie (Kat Graham) to help him undo the spell that binds them all together, telling her that if she didn't, he would kill Jeremy (Steven McQueen) and her vampire mommy Abby (Persia White).
So while Bonnie is figuring out a way to break the spell, Stefan and Damon meet up with Elena (Nina Dobrev), Caroline (Candice Accola) and Matt (Zach Roerig) to conjure up a plan on how and when to stake one of the Mikaelsons.
They agree that Rebekah (Claire Holt) would be the easiest target, but boy oh boy are they wrong! Rebekah who's still very, very pissed about Damon's little trick last week, knocks out Alaric and kidnaps Damon, hanging him from chains to drain his blood of vervain. OUCH.
But, while Damon is held hostage, Stefan continues with the plan to stake one of the Originals, and his latest target is Finn (Caspar Zafer), who's is in a very vulnerable state now that he's been reunited with his one true love, Sage (Cassidy Freeman). He ends up staking Finn outside the Mystic Grill after slipping vervain into his and Sage's tequila shots, and Finn dies. So, are the Originals dead?! Not so much.
Article continues below advertisement
Bonnie completed the spell before Stefan staked Finn, so Rebekah, Kol (Nathaniel Buzolic), Elijah (Daniel Gillies) and Klaus are still alive and thriving, while their brother Finn is the only casuality of this episode.
Well, that's until Sage and her vampire buddy Troy decide to seek revenge on Stefan for killing Finn and show up at the Salvatore mansion. But before Sage can kill Stefan and Elena, she and Troy begin to choke and eventually die. BUT WHY?! Turns out when an Original dies, so does any vampire they ever created.
OK! NEWS: VAMPIRE DIARIES RECAP: DAMON TRICKS REBEKAH INTO SLEEPING WITH HIM AND ALARIC STABS MEREDITH!
Doesn't seem like a big deal until Stefan, Elena and Caroline put their heads together and realize that Klaus turned Tyler (Michael Trevino), so if he dies, Tyler dies. And who knows how far back the blood lines between vampires run — Damon and Stefan could be in danger too!
And that's no good for Elena, considering when Stefan tells her he "never stopped loving her," she admits she loves him too, but also has feelings for Damon. This doesn't settle well with Stefan.
Neither does the fact that when he goes to see Alaric to retrieve the last few stakes they made and give them to Klaus as a plea deal for Damon's safety, Alaric realizes his alter-ego has hid them somewhere. This is terrible news, considering "good" Alaric has no clue where "bad" Alaric put the stakes.
The Salvatores are in big, big trouble.