NEWS
'The Vampire Diaries' Recap: Klaus Tells Damon & Stefan to Let Elena Go, But Will They?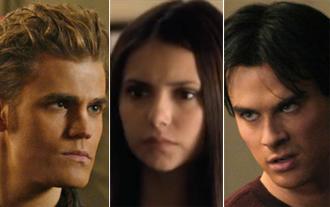 Something fishy is going on in Mystic Falls, and it's not just a hybrid invasion. On the Feb. 2 episode of The Vampire Diaries, the human citizens of the supernatural town are dropping like flies after being staked by a mysterious murderer... but WHO is it? 
First it was Meredith's (Torrey DeVitto) ex-boyfriend is found staked to death in the woods, then this week we discover Caroline's (Candice Accola) dad Bill (Jack Coleman) was killed after being injected with vampire blood, and lastly, Alaric (Matt Davis) suffers another untimely death at the hands of this crazy killer! Thankfully Alaric was wearing his ring when he died, but sadly, Bill decides that dying would be better than living as a vampire for the rest of his life. He chooses to die, which absolutely destroys Caroline — and breaks our hearts! 
Article continues below advertisement
Speaking of that so-called coffin, Bonnie (Kat Graham) and her mommy-dearest Abby (Persia White) work together to open it, which doesn't end well for them. Apparently Klaus' mother was the one sleeping in that special box, and now, she's awakened from the dead. As are all her children aka Klaus' brothers and sister Rebekah (Claire Holt), whose daggers were removed with a little help from Damon and Elijah, who is obviously more interested in hurting his devious brother Klaus than the Salvatores. Klaus mother and siblings show up at his house at the end of the episode and he's as surprised as we are. 
Article continues below advertisement
Meanwhile, Elena (Nina Dobrev) spends almost the entire episode with Matt (Zach Roerig), who might we add is the sweetest, most loyal human in Mystic Falls (even if there aren't many left). The two comfort Caroline as she grieves for her dad before they discover Alaric's dead body back at Elena's house. Both these incidents have obviously made them closer, something Klaus secretly wants to happen. 
OK! NEWS: VAMPIRE DIARIES RECAP: STEFAN RISKS ELENA'S LIFE IN ORDER TO GET TO KLAUS! 
That's right! Klaus' new scheme for the Salvatore brothers is to get them to leave Elena behind and let her live an ordinary human life. He promises he will never harm her again if both Damon and Stefan stay away. But of course, they obviously can't do that, considering both of them confess their love for Elena to each other after their family-friendly feast. Let's just say, the rest of the season is going to be a full-out battle for Elena's heart, and we have a feeling Matt will be joining the fight too! 
What did you think of last night's episode? Share your reactions and thoughts with us!