NEWS
'The Vampire Diaries' Season Four Scoop: Stefan & Caroline Bond While Elena Transitions!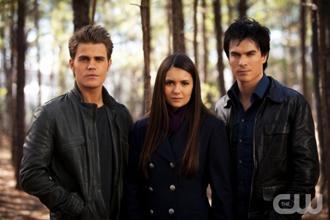 The time has come when many of our favorite TV shows are on summer hiatus, leaving us yearning for spoilers and teasers for next season. Thanks to executive producer Julie Plec, we now have plenty to look forward to in season four of The Vampire Diaries!
Julie appeared at the ATX Television Festival panel and revealed tons of scoops to TV Guide that will blow your mind about the upcoming season of the hit CW show.
Article continues below advertisement
OK! GALLERY: IAN SOMERHALDER, NINA DOBREV, RACHEL BILSON & MORE AT THE CW NETWORK UPFRONTS IN NYC
Is Elena (Nina Dobrev) actually a vampire? Yes. Is she still in love with Stefan (Paul Wesley)? Yes. But does she still have feelings for Damon (Ian Somerhalder)? Of course, yes, yes yes!
So, what else can we expect from next season? Writer Jose Molina says a lot of twists and turns!
"We have the road map for next season and before we broke for vacation, I was staring and looking at everything we have planned, and this stupid grin spread over my face," Jose told TV Guide. "I was like, 'They are going to s***.' Already we have so many moments where people are going to freak."
Julie revealed that Alaric (Matt Davis) may be dead, but could possibly make a return. She also confessed that although Tyler (Michael Trevino) will be playing Klaus for the first few episodes, Joseph Morgan may be back as well. But the biggest spoiler is the budding relationship between Stefan and Caroline (Candice Accola), who helps out with Elena's transition into a vampire.
"I always look at Caroline as Stefan's future best friend Lexi (Arielle Kebbel)," Julie said. "You've seen little pockets of a friendship spark between them, and I see Caroline in the long run of the series becoming that important in Stefan's life."
Article continues below advertisement
"Caroline is an acolyte of the Stefan school of sobriety, so to speak, so she's going to be all, 'I'm with you, buddy, I'm on your team,' as they try to help Elena," she added.
OK! NEWS: THE VAMPIRE DIARIES FINALE RECAP: IS ELENA A VAMPIRE?!
As for Damon, his evolution continues.
"This is a reminder that Damon is a character that started in a very dark place, but with a lot of love and emotion brewing under him," Julie said. "All of our characters, including his own brother, had to witness his evolution as a person, and he has done some really extraordinarily s----y things, but he has also done them in the name of love, pain, abandonment, self-preservation, survival and family. He's going to keep evolving, and Elena's feelings for him are going to continue to evolve."
Are you excited for season four? Check out more scoops here!