NEWS
'Vampire Diaries' Star Ian Somerhalder Admits Lovesick Damon 'Needs His Mojo Back!'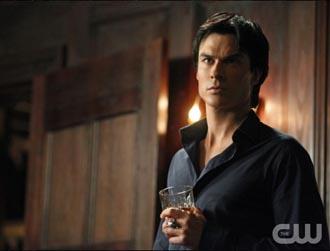 Article continues below advertisement
"Damon, no matter who he gets it from, needs his mojo back," Ian tells TVGuide.com. "He's been pining for Katherine and pining for Elena — Damon's not a piner! He needs to stop falling for the Roses of the world and get back to doing what he does best."
And we all know what he does best! "Damon back to that Season 1 Damon, the Damon that really had righteous reasons but ill intentions, and that's why we loved him," Ian confirms. "You'll start to really see Damon shift from being repressed and stomped on to really making a shift and getting back this mojo he had. He realizes, 'I could cut my losses and move forward and be okay.'"
"It's like having a piece of chocolate and you're on a diet. And you smell the chocolate, you look at the chocolate, you maybe hug the chocolate, but you feel guilty that you're eating chocolate," Ian explains. "And you say, 'You know, if I'm going to feel guilty about eating chocolate, I'm going to damn well eat this stuff.' Elena's lips were the chocolate."
Watch a preview of tonight's episode and let us know what you think of Damon returning to his former self!