NEWS
Vanessa Hudgens: "Figuring Things Out" With Zac Efron; Michael Caine "Hits on Me"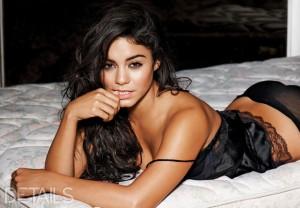 Vanessa Hudgens has ditched her Disney looks completely for the March issue of Details magazine. Even though Vanessa and her longtime High School Musical boyfriend Zac Efron broke up she seems hopeful it won't stay that way. But hey, she also says Michael Caine hits on her....so she's got that going for her!
OK! GALLERY: VANESSA HUDGENS HIDES HER SMILE POST ZAC EFRON SPLIT
Based on her new interview with Details we're starting to feel like there's a side of Vanessa that we haven't really seen.
Article continues below advertisement
"I'm not nervous," Vanessa tells Details when her interview begins . "I'm excited. I get excited. I'm, like, a very hyper, energetic, crazy type of crazy. I have a lot going on. Always. I'll dance on a table sober."
And it sounds like that's the side we'll see more of in Vanessa's upcoming movie, Sucker Punch.
"We trained with Navy Seals," she says of the film. "We were machines. You could not f**k with us. We'd all go running around Vancouver, where we filmed, to restaurants and bars and karaoke, like we owned it. We'd intentionally cruise back alleys, knowing that if anything did happen, we'd be all right. Taking the safest way home at that point was just boring."
OK! NEWS: ZAC EFRON MOVING ON & MAKING OUT WITH TERESA PALMER?
And that's kind of the attitude she has with her breakup from Zac saying lines like, "We're still friends," "Who knows what the future will bring," "We're figuring things out."
But if things don't get figured out she apparently has Michael interested in her...
Vanessa has most recently been filming the sequel to Journey to the Center of the Earth in Hawaii with Micahel and says "He's uh-mazing."
Article continues below advertisement
"Not only is he uh-mazingly, stupidly talented, but he still kind of hits on me. All the time," she says. "If it was anybody else, I'd be like, 'Who the hell do you think you are?' But because it's Michael Caine, I'm like, 'Sock it to me more, baby, come on!'"
"Throughout this whole movie we're trudging through the jungle. So, of course, we're sweating. I can't tell you how much time is spent putting oil on my chest. And Evian. Spraying Evian bottles on my chest and my arms and my forehead, but mostly my chest," Vanessa explains. "Just to look like I'm sweating. But your boobs don't really sweat, cleavage doesn't sweat. So it's kind of funny. But Michael's always telling the makeup artists that he'll take over and do it. I. Frickin'. Love. Him."
Hm, wonder if Zac's a little jealous now?