NEWS
Vanessa Hudgens Heads Out to Shop in Malibu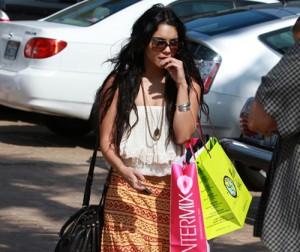 Actress Vanessa Hudgens went shopping in Malibu for clothes on Sunday. It's great that Vanessa found some free time to just go shopping, since she has such a busy summer in front of her! Next month, Baby V will be the cover girl for Glamour magazine. She'll also be returning to the musical theater stage this August, and her next show is no High School Musical!
OK! GALLERY: VANESSA HUDGENS HIDES BEHIND HERSELF POST WORKOUT
Article continues below advertisement
Vanessa's movie Beastly was supposed to be premiering this summer. Beastly in the classic story of Beauty and the Beast with a modern twist; joining Vanessa in the cast is also Mary-Kate Olsen and Neil Patrick Harris. However, the film is now being released in March to avoid conflict with Vanessa's boyfriend Zac Efron's release of Charlie St. Cloud.
In August, Vanessa will play the role of Mimi, a HIV-positive stripper in a production of the play Rent, which is being directed by Beastly co-star Neil Patrick Harris! NPH will be joining her onstage, playing the part of Mark.
OK! GALLERY: ZAC SHOWS VANESSA HOW TO SHOP IN STYLE
For any free moments Vanessa does find this summer, you can almost guarantee she'll spend them with Zac! Who can blame her? The High School Musical sweethearts have been dating since they began filming the first HSM movie in 2005.