NEWS
VH1 TOUGH LOVE, LOVE SECRET?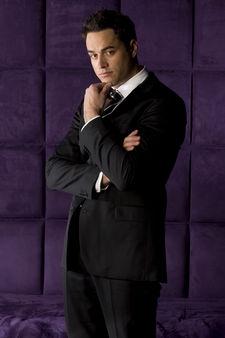 After watching Sunday night's episode of VH1 Tough Love, some of my fellow TV Fanatics wondered if dating guru Steven Ward had finally found the right guy for Taylor Royce, the model from Scottsdale, Ariz. -- a.k.a. Miss Gold Digger. Namely himself!
"They had a few moments during bar trivia," says one devoted viewer. "He threw her some winks and she was smiling giddily."
A recent Twitter update from Steven also seems to point to a blossoming love affair.
Article continues below advertisement
"TAYLORIFIC," it reads. "I really love u. Taylor if ur twittering, I miss you."
So is it true? Will this season's finale serve up romance for Taylor with her dating guru?
"LMAO!" Steven declares to the TV Fanatic.
"I have never, nor would ever date Taylor," says the 28-year-old matchmaker, who admits he is "seeing someone right now."
While he won't be making a romantic rendezvous with his student, Steven says, "Taylor is a great woman and I enjoyed helping her."
So what about that lovey-dovey two-liner?
"I love her though because she turned the corner this week on the show and is starting to grow as an individual. That is cause for love," Steven explains.
Aww, sweet tweet!
Catch the next episode of VH1 Tough Love on Sunday, April 12 at 10 p.m. on VH1.