NEWS
Victoria's Secret Angels Karlie Kloss and Candice Swanepoel's Sexy Tips for Valentine's Day Night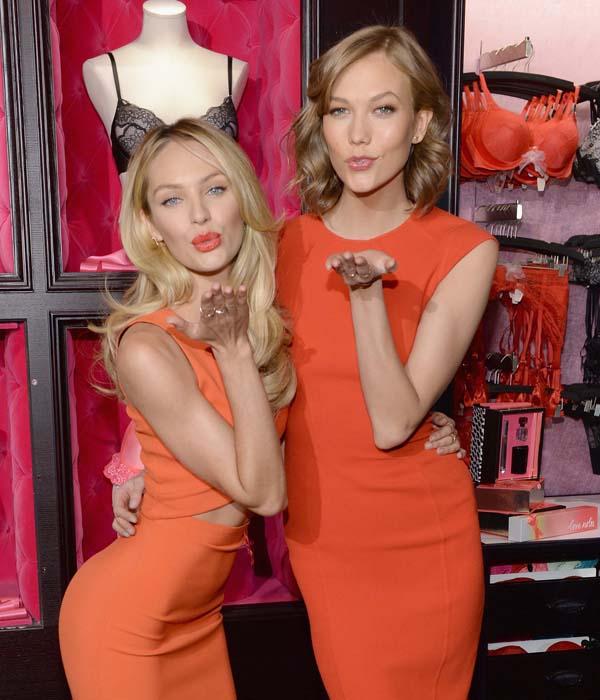 It's time to turn up the heat to celebrate Valentine's Day with your special someone. Victoria's Secret Angels Karlie Kloss and Candice Swanepoel come to the rescue with their get-sexy tips.
First up? Perfecting the Valentine's date-night look.
Photos: 15 Pretty Dresses Perfect for Valentine's Day
Both Karlie and Candice agree it's all about the red lip.
"Doing a classic, bright red lip is very sexy," Karlie tells me during the Victoria's Secret Bombshells Day event at NYC's Herald Square. "You can't go wrong with a red lip."
Article continues below advertisement
Candace adds, "I don't usually wear a red lip, but on Valentine's Day, I like to do that. That's a fun thing to do, because it's strange to wear a red lip out of nowhere, but there are so many different tones of red. I like the darker, bluer red."
Otherwise, it's all about the eyes.
"Either do a red lip or a smoky eye—not both," Karlie says. "You've got to be careful if you're going to get a kiss from your Valentine, because that always poses a problem."
OK! Exclusive: Karlie Kloss' Easy Get-Fit Tips
She continues, "You can tell a lot about someone through their eyes. You know if someone loves you—it's in their eyes. A smoky eye is very sexy."
As for Candice?
"You can never go wrong with a liquid eyeliner to bring that feline side out," she says.
When it's time to head to the bedroom, the ladies share their lingerie tips designed to give your night a special sizzle.
MORE ON:
Victoria's Secret
Article continues below advertisement
"Valentine's Day is a day you want to feel super-sexy," Karlie says. "I don't know if for me that comes from what I'm wearing, but how I feel. My tastes are super-simple. I like classic, black lace lingerie. A lacy black teddy is so iconic and so timeless."
She continues, "Lingerie is incredibly sexy, not only because it's pretty to look at, but more so because it makes you feel confident and gives you that extra boost."
Photos: The Most Romantic Movie Moments Ever
For Candice, it's all about red lingerie.
"Wear something red, lacy, pull out the garter belt— it's a day when you can really go for it. I always feel sexy wearing stockings with a garter belt. It gives you that old, retro, bombshell feeling. There's a stereotype of what is sexy, so lace—there's beautiful one-pieces that are a good go-to."
Just because Karlie and Candice are Victoria's Secret Angels doesn't mean they can't relate to the single gals out there. Candice will be celebrating solo.