NEWS
Video: Backstage with the Jonas Brothers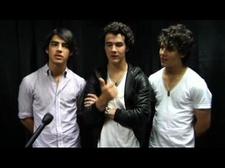 From chart-topping songs and videos to sold-out stadiums overflowing with screaming fans, you'd be hard-pressed to find anyone who wouldn't agree that 2008 has been the year of the Jonas Brothers. And it looks like even the boys themselves would agree.
"We've gone through a great year this past year," admits Joe Jonas in an exclusive video interview with ELLEgirl.com (scroll down to watch the entire clip). "Everything's gone right for us."
Article continues below advertisement
Even with all of their runaway success, the Jonas lads are still a bit starstruck when they run into celebrities they admire. During a press stop at Yankees stadium in NYC, Joe admits, "If we're fans of anything, it's the New York Yankees... to be inches away from Derek Jeter!" Adds Kevin Jonas, "it's incredible."
ELLEgirl got the chance to follow the Jonas Brothers for over 12 hours as they are escorted through the crazy life of pop superstars. To check out their entire itinerary, CLICK HERE!