NEWS
VIDEO: Betty White Un-Aired 'SNL' Skits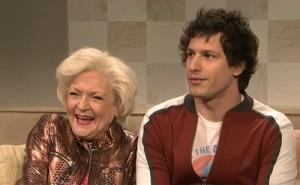 If you didn't get enough of Betty White on Saturday Night Live, NBC has you covered. After her highly-successful hosting gig on the hit show, NBC has released un-aired skits of Betty and the rest of the SNL cast.
Betty, 88, landed the SNL hosting gig after a successful campaign was launched by Facebook fans, who she recognized during her monologue.
OK! VIDEO: BETTY WHITE JOINS FEMALE FACES OF SNL IN NEW PROMO
Article continues below advertisement
"I really have to thank Facebook ... I didn't know what Facebook was, and now that I do know what it is, it sounds like a huge waste of time. I would never think that people on it are losers, but that's only because I'm polite," Betty joked in her opening (via PopEater). "At my age, if I want to connect with old friends, I need a Ouija board. Facebook just sounds like a drag. In my day, seeing pictures of people's vacations was considered a punishment."
Betty's first night hosting SNL scored NBC its highest ratings in 18 months, according to Nielsen (via PopEater).
All of SNL's famous leading ladies came back to join Betty in the Mother's Day-themed episode including past cast members Molly Shannon, Tina Fey, Amy Poehler, Maya Rudolph, Rachel Dratch and Ana Gasteyer.