NEWS
VIDEO: 'Breaking Dawn' Screenwriter Wants to "See the Terror" in Birth Scene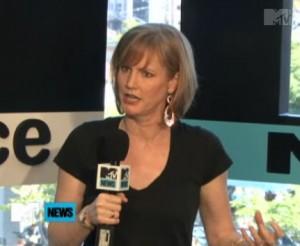 Here's a progress update from screenwriter Melissa Rosenberg for all the Twi-hards who are concerned with how The Twilight Saga: Breaking Dawn birth scene will be shown.
OK! GALLERY: ROBERT PATTINSON MAKES A QUICK EXIT
MTV News got an update from Melissa at Comic-Con on where she's at finalizing the Breaking Dawn script.
WARNING: SPOILER ALERTS BELOW!
Melissa says Bella's (Kristen Stewart) birth scene will be shown, but she's still working with director Bill Condon to figure out the specifics.
Article continues below advertisement
"I've written and continue to rewrite it, working on it with Bill Condon. He has a vision as well, but it's kind of a shared vision I would say, but ultimately it comes down to, what does he actually want to see?" Melissa told MTV News. "I know what I want to see, which is, I want to see the terror of the experience. I want to have the experience of the fear and feel her pain. I want to feel everyone's pain in this."
OK! NEWS: BREAKING DAWN BIRTH SCENE & 3-D STILL BEING DEBATED
However, Melissa doesn't want the scene to be too gruesome, which means the "vampire ceasarian" performed by Edward (Robert Pattinson) may not shot in it's full glory.
"I want it to be visceral, so that is what's most important. Do I want to see teeth in placenta? No," she said. "Someone else may. I don't actually want to see that, but to each his own."
Article continues below advertisement
OK! NEWS: BREAKING DAWN SEX SCENES TO BE "SAUCIER" THAN THE BOOK
And here's another element of Breaking Dawn that Twi-hards can discuss — the imprinting scene.
Melissa is also still debating how to show Jacob's (Taylor Lautner) "spiritual experience" with Bella's newborn child that makes him realize the baby is his soul mate.
"One must be very careful with that," Rosenberg said about that particular scene, "but hopefully you've taken this ride with Jacob for all four movies; you know Jacob, and so I think you'll experience it the way he does, which is spiritually, as a spiritual experience, as an emotional experience and not something that makes one uncomfortable."