NEWS
VIDEO: Bryce Dallas Howard on Joining the 'Eclipse' Cast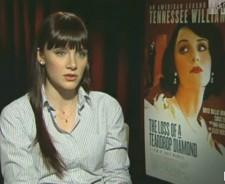 Bryce Dallas Howard is speaking out on being embraced by the Twilight cast after replacing Rachelle Lefevre as Victoria, the malicious, fiery, redheaded vamp, in next summer's Eclipse. "They were really lovely," Bryce told MTV News while she was promoting her new film, Loss of a Teardrop Diamond. "And yes, it's an incredible group of people. I have so much respect for them." "There's so much frenzy surrounding them, and they've remained grounded, and their friendships are so genuine," the 27-year-old continued. "I felt very lucky to work with such a good group of people. They love these books — all these actors. They're fans themselves. It was a great energy on set — that people are so passionate about bringing these characters to life."
Article continues below advertisement
The change in actresses caused a bit of an uproar in the Twi-hard community over the summer after Rachelle and Summit Entertainment's released varying accounts of what happened.
"It was actually a really unfortunate circumstance where the actress who everyone really cared deeply about, who has done an amazing job in this role, was unavailable," Bryce, the daughter of Oscar winning actor/director Ron Howard, told MTV. "They were looking for someone to fill that slot. It was right before production actually happened, so of course there was intimidation there and feeling a huge responsibility to do my best."
Bryce currently stars in the film Loss of a Teardrop Diamond by Pulitzer Prize winning playwright Tennessee Williams. She plays a 1920s Memphis débutante daughter of a plantation owner who has a strong distaste for narrow-minded people and a penchant for shocking behavior.