NEWS
VIDEO: Casey Affleck Says People "Were Happy to Mock" Joaquin Phoenix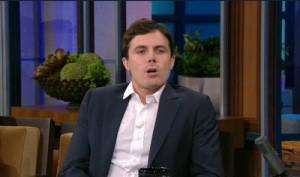 Casey Affleck has mixed feelings about the public's response to Joaquin Phoenix in the film he directed, I'm Still Here. Casey already admitted he wasn't trying to deceive anyone, and last night on The Tonight Show With Jay Leno, Casey opened up about the critics and fall-out over the film, which he recently dubbed as "the performance" of his brother-in-law's career.
Host Jay Leno questioned whether Casey got any calls from concerned parties, worrying that Joaquin was throwing not only his career, but his life away.
Article continues below advertisement
"Ya know, I never did. Afterward, the movie comes out, the critics liked to say, 'This is crazy, this is disturbing, this is sick and we should be worried about him,' " Casey said, "but while it was happening, people were happy just to mock him."
Ben Affleck's little brother did admit he wanted audiences to question the reality of the film.
Article continues below advertisement
However, by no means does Casey feel he has deceived anyone. He stands strong against those who classify the film as a "hoax."
"It's not a documentary, because all the people in the movie are acting... A social experiment, if you want to call it that,"he said. "I would call it a, uh, movie."
Be sure to catch Joaquin on late night TV as he pays a visit to David Letterman for the first time since his very bizarre bearded appearance with Dave in February 2009!