NEWS
VIDEO: Chelsea Handler Annouces Split with Dave Salmoni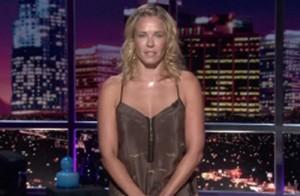 Chelsea Handler somehow made a sad announcement funny on her talk show Wednesday night. During her monologue, the witty, foul-mouthed comedian broke the news that she and her beau, Animal Planet hunk Dave Salmoni, decided to end their relationship.
"I have been working for the E! network for over three years now, and in addition to hosting this chucklefest of a show, I've given many suggestions on how to improve the quality of their entire network. As you can tell by the current line-up of shows, they have taken none of my suggestions. So I've decided to consult for other networks," Chelsea began her monologue on Chelsea Lately, which at first sounded like she was breaking up with E!.
Article continues below advertisement
OK! NEWS: CHELSEA HANDLER HOPES TO REUNITE TAYLOR & KANYE AT VMAS
"Up until a couple weeks ago, I was working very intimately with the Animal Planet, but unfortunately, that contract was terminated," she laughed. "However, I enjoyed being in bed with them and may hook up for an occasional project."
Chelsea, 35, and Dave, 34, were last seen together at a concert in August, according to Just Jared.