NEWS
VIDEO: Cop Car Accidentally "Crashes" the 'Transformers 3' Set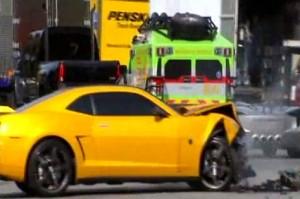 Wonder who will be at fault for this one? A cop car came speeding onto the closed set of Transformers 3 recently and crashed into the Bumblebee Camaro!
OK! GALLERY: TRANSFORMERS 3 ON LOCATION WITH ACTION DOUBLES
Okay, the yellow Camaro technically hit the cop car but it wasn't suppose to be there!
Somehow a cop car managed to make its way onto the Transformers 3 set, which was closed to the public. The result? Just as the Bumblebee Camaro was filming its scene by accelerating into the street, the cop car came onto the scene too!
Article continues below advertisement
OK! GALLERY: JOSH & TYRESE TRANSFORM BACK INTO ACTION STARS
"Earlier today, a MPD marked cruiser responding to an emergency assignment, collided with a vehicle involved in the filming of a movie at Third Street and Maryland Avenue, SW," the Metropolitan Police Department said in a statement. "The officer sustained minor injuries and was transported to a local hospital. No civilian injuries have been reported.
"The Metropolitan Police Department is investigating the facts of the crash and filming of this movie on closed D.C. city streets has been suspended until safety procedures can be reviewed."