NEWS
VIDEO: Elisabeth Hasselbeck Cries Apology to Erin Andrews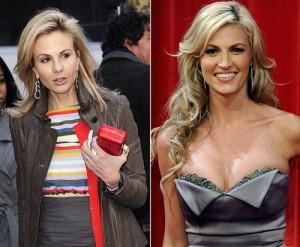 Elisabeth Hasselbeck made a grand, teary-eyed public apology today on The View to Erin Andrews for cracking a really poor joke about the ESPN reporter/Dancing With the Stars contestant on yesterday's show.
Elisabeth received a lot of flack yesterday after she made a comment suggesting that Erin's deranged peeping Tom should have dropped his hidden camera, secret act, because he could see "a little bit less – without the prison time" just by watching her perform on DWTS.
Article continues below advertisement
OK! NEWS: ERIN ANDREWS RECEIVES GUN THREAT IN EMAIL
Erin wears some revealing costumes on for her routines, but so do the other contestants. Her stalker has been causing her pain throughout her whole DWTS experience.
"I was shocked and I think the best way to describe it is that it was very disappointing," Erin told The Insider in response to Elisabeth's rude comment. "It was a slap in the face to victims of stalking and victims of sexual predators and I don't take that lightly. I felt like the situation was mocked, that it was a big joke and it's not a big joke and it's not a big joke to my family either."
"We all watched it together on a computer and got very upset. The biggest reason why is because she's a woman and more importantly she's a mother," Erin added.