NEWS
VIDEO: Emma Thompson Bids a Final Wave of Her Wand to 'Harry Potter'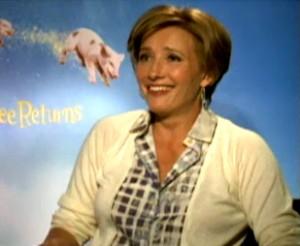 Emma Thompson made a final and brief visit to the Harry Potter and the Deathly Hallows set, but says the film made sure to fit everyone character in it — made up mostly of her family!
OK! NEWS: NANNY MCPHEE STAR EMMA THOMPSON — AUDREY HEPBURN "CAN'T REALLY ACT"
The Nanny McPhee Returns star bid a final wave of her wand to her Harry Potter character, Professor Trelawney.
"They were very quick," she told MTV News of her two days on set. "I just had to do a bit of waving of a wand and a bit of 'ooooo-ing' over dead people, because of course they just had to fit absolutely everyone in."
Article continues below advertisement
OK! NEWS: EMMA THOMPSON GETS HOLLYWOOD STAR
Emma said the shooting schedule felt like a "conveyor belt of characters, as this extraordinary machine came to its end," but "it was incredible to see everyone and just sort of quickly say hello and goodbye."
The cast is so large that Emma agreed it seems like every U.K. actor has appeared in a Harry Potter film.
"Absolutely everyone in equity has been in it," she said of the cast. "Including all my family, practically. My sister just finished. I don't know what the name of her character is; she's got a major role in this last one."
OK! NEWS: EMMA THOMPSON IS MAGGIE GYLLENHAAL'S IDOL
Emma's sister, Sophie Thompson, stars as Mafalda Hopkirk, the Ministry of Magic employee/Proper Use of Magic enforcer.
"I've got a photo of her with Daniel Radcliffe dragging her off somewhere ... so I don't know what they're doing; I haven't seen it yet."
Guess we all have to wait to find out!