NEWS
VIDEO: Fellow Celebs & Loyal Fans Wish R-Pattz a Happy Birthday!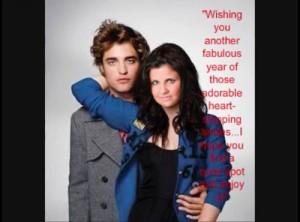 It seems like Robert Pattinson's birthday should be made into a national holiday the way his fans are celebrating! Check out OK!'s round-up of Rob's birthday tributes.
The fan blog ROBsessed lives and breathes R-Pattz with constant postings on his whereabouts, his latest projects, any interviews, trailers — you name it, they got it!
Article continues below advertisement
The fans compiled photos and messages for the Twilight hunk's 24th, some humorous, others sweet, and then there were some on the creepy side.
Regardless, Rob has the most devoted fans ever, don't you think?
PopSugar composed a great video of the top 24 reasons they love R-Pattz ... his voice, his role as a caring big brother, his abs... take a look at their fun countdown!
Then of course there was the round-up of young hot Hollywood celebs wishing R-Pattz a happy happy at the Nylon magazine Young Hollywood party.
At the party, Vanessa Hudgens, Chelsea Staub, Whitney Port and Stephanie Pratt sent along their birthday messages, via MTV news, and their ideas for presents for R-Pattz.
Article continues below advertisement
"Rob, I hope you have the best birthday ever, and let me know where your party is," Stephanie Pratt addressed the star via MTV News. "I will be there!"
Chelsea, from the TV show Jonas wanted in on the R-Pattz birthday bash. "If you want to party, give me a call," she said.
Chelsea also came up with a great gift idea: "Some ear plugs," she suggested understanding Rob's fan base of screaming teenage girls. "Because I'm sure he's going to have hearing damage by the time his career is over."
Vanessa wished Rob a simple "Happy Birthday!"
Check out the MTV News video: