NEWS
VIDEO: Funny Girl Jen Aniston Poses as Barbra Streisand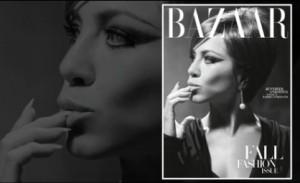 In the September issue of Harper's Bazaar Jennifer Aniston went bold and did a photo shoot that pays homage to her idol Barbra Streisand. "You don't have to stop at one thing," Jen says of what she's learned from Barbra. "You can do it all if you want to."
OK! GALLERY:JEN ANISTON IS ALL SMILES SANS SUNGLASSES IN SUNNY CALI
Not being afraid to do it all is the type of attitude Jen has in her life right now.
Article continues below advertisement
"I have no idea what people are going to think about it," Jen tells Harper's Bazaar of her photo shoot for their new issue. "Everybody has an opinion; it's just what people love to have. But that's okay. Art is so subjective, and people can react however they want."
"Barbra inspires me because there isn't anything she hasn't done that she wanted to do, especially as a female in the time when her generation was prime," she explains. "She's a true renaissance woman."
OK! COVER STORY: JEN'S STEALING BRAD BACK!
Whether the Friends star understands why or not, she's a funny girl just like Barbara.
"People laugh at me. Sometimes I know why, and sometimes I don't. But I can pretty much find humor in anything," Jen says. "That is a necessary part of life. I don't want to say laughter is healing, because it sounds corny, but it's a release."
And laughter and her desire to succeed at whatever she wants to do is what she and Barbra have in common.