NEWS
VIDEO: James Franco Explains His "Fascination" with 'Twilight'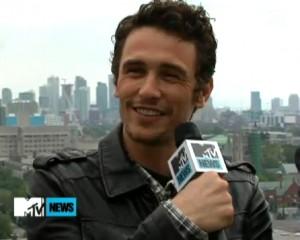 Twi-hards, meet your new devotee, James Franco. Ever since it was reported that James was caught reading The Twilight Saga, fans have been wondering why the serious actor would be a secret Twi-hard and he's ready to fess up!
OK! GALLERY: JAMES FRANCO TAKES SOME MINUTES TO PROMOTE 127 HOURS
While James was promoting his new film 127 Hours with director Danny Boyle at the Toronto International Film Festival, MTV News switched topics with the actor to confront him on being a closet Twi-hard.
Article continues below advertisement
"I haven't read the last one! I kind of know what happens... some very strange birth, right?" James said of The Twilight Saga: Breaking Dawn. "I read a part of it. I think I got to the sex scene, but it was so brief, I didn't even know if it was the actual sex scene," he admitted. "It was kind of a letdown after all that buildup."
OK! VIDEO: JAMES FRANCO GETS FRANK WITH ESQUIRE
But did he find the other books enjoyable?
"I wouldn't say I enjoy them, but I'm fascinated with them. I'm interested in the metaphor of the vampire placed in the high school setting and how a relationship with a vampire can stand in for general feelings that people have as teenagers," James explained. "And the obsession people have with that is also fascinating to me."
OK! NEWS: JAMES FRANCO — "EVERYONE THINKS I'M A STONER, SOME PEOPLE THINK I'M GAY"
Article continues below advertisement
And the films fascinate James in a different way — mainly Robert Pattinson and Taylor Lautner.
"The movies are interesting also because they've really become part of the whole Twilight phenomenon, and it's really hard to extricate those actors from the reading experience or just the phenomenon of Twilight now," he said. "They've become a part of it to the point that the movies are almost commenting on themselves."
"There will be a scene where the go-to guys, Taylor and Rob, are in the tent, it's almost like a Brokeback Mountain scene, where the two guys are talking in a tent and the girl is asleep, and they're having, like, this romantic moment almost through her, in a way," James explained. "One of them says, 'Well, I'm hotter than you,' and it's almost like they're winking at the fans, like to the Team Jacob or the Team Edwards."
Watch James share his Twilight thoughts in the interview below!