NEWS
James Franco: "Everyone Thinks I'm a Stoner, Some People Think I'm Gay"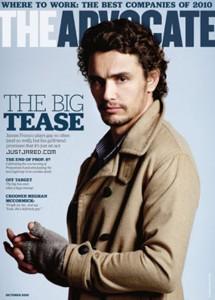 James Franco looks steamy all bundled up for fall on the October 2010 issue of The Advocate. The 32-year-old hot Hollywood actor is gearing up for his role as iconic gay poet Allen Ginsberg in the film Howl and opens up to the mag about his sexuality, smoking pot and portraying gay characters.
So would James admit if he was gay?
"Sure, I'd tell you if I was. I guess the reason I wouldn't is because I'd be worried that it would hurt my career," the actor tells the mag. "I suppose that's the reason one wouldn't do that, right? But no, that wouldn't be something that would deter me. I'm going to do projects that I want to do."
Article continues below advertisement
James explains that he is often stereotyped by the roles he plays.
"Everyone thinks I'm a stoner, and some people think I'm gay because I've played these gay roles. That's what people think, but it's not true. I don't smoke pot. I'm not gay."
James says he seeks out roles that feature relationships that are not as common.
"In this history of cinema, there are so many heterosexual love stories. It's so hammered, so done. It's just not that interesting to me. It's more interesting to me to play roles and relationships that haven't been portrayed as often."
OK! VIDEO: JAMES FRANCO GETS TRAPPED IN 127 HOURS TRAILER
The actor — who enrolled in Columbia University's Master of Fine Arts (MFA) Writing Program for Fall 2008 — has always been interested in portraying literary figures and said there was no one who could talk him out of playing this role.
Article continues below advertisement
"You want to know what my agents did try to talk me out of? General Hospital. They didn't think me acting in a soap opera was the greatest idea. But they know that I've always wanted to do a movie about the Beats, so no one tried to stop me from playing Allen Ginsberg."
Take a behind-the-scenes look at James' photo shoot with The Advocate!
Check out the Howl trailer!