NEWS
VIDEO: Jeff Bridges Has 'True Grit'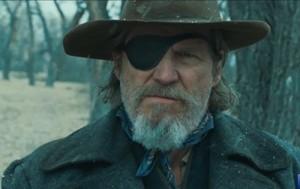 Jeff Bridges may be on the path to another Oscar. The trailer for the veteran actor's latest flick True Grit sure doesn't disappoint. The Joel and Ethan Coen-directed film is a remake of the 1969 John Wayne classic that earned Wayne his one and only Oscar.
This time around, Jeff plays the eye-patch wearing, rugged, aged and tough U.S. Marshal Reuben J. "Rooster" Cogburn.
Article continues below advertisement
The remake — which hits theaters Dec. 25 — also stars Matt Damon and young newcomer Hailee Steinfeld as the 14-year-old girl who hires Rooster to find the man who killed her father.
OK! NEWS: OSCAR WINNER JEFF BRIDGES' WIFE SUSAN GESTON IS SECRET TO HIS SUCCESS
Catch the trailer for the original 1969 True Grit starring John Wayne!