NEWS
VIDEO: Jesse James Claims Childhood Abuse by Father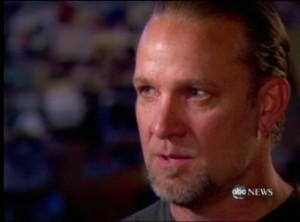 While much of Jesse James' interview with ABC's Nightline had been released early, they did save something shocking to show last night! Jesse claims he was abused by his father as a child and that is partially responsible his self-sabotaging ways.
OK! GALLERY: JESSE JAMES TAKES KIDS TO SCHOOL SANS WEDDING RING
"I grew up with a huge amount of shame and fear and abandonment on my shoulders from a very young age and I think, you know, the way my mind rationalized cheating, 'Well, you know, I might as well do whatever I can to like run her off cause she is going to find out what I am anyway and leave me anyway,' " Sandra Bullock's estranged husband explained in his interview with ABC's Nightline.
Article continues below advertisement
OK! VIDEO: JESSE JAMES — "I'M THE MOST HATED MAN IN THE WORLD"
"He beat my ass pretty good a bunch of times... I just remember, like, clinched teeth, strained-neck look on his face," Jesse said. "My whole childhood, I never had a chance to be a kid... . I was always scared."
"I was petrified of my dad... It wasn't so much getting the sh** beat out of me or getting my arm broken or getting kicked or whatever or punched, it was the in-between time. It was the fear of that happening again," he tearfully added. "I was a terrorized kid and, I mean, it's really tough for me to think about now because... Sunny is the age that I was when my dad broke my arm."
OK! VIDEO: JESSE JAMES SAYS "I WANTED TO GET CAUGHT"
Jesse also explained that his time spent in rehab was somewhat for sex addiction, but also anger management and coping with his alleged childhood abuse.
"I don't think I have a sex addiction where I'm running around trying to have sex with everyone and I can't stop," James said. "I think I do things to sabotage my life, including having extramarital affairs, texting, overworking myself, injuring myself, doing stunts and stupid things. I think I do a lot of things in my life that I shouldn't be doing that aren't conducive to being a perfect husband, you know, and the affairs are just one of them."
OK! EXCLUSIVE: SANDRA & LOUIS' FAMILY JOY
Since going to rehab, Jesse feels like a new man.
"I lived this false self for so long because I, you know, I didn't want anybody to see the real me," he said. "I really wish I didn't have to go through all this and put everybody else through this to get to this place, but hopefully with time and my actions, and the things that I do, I hope people realize that, you know, Hey, I'm human, I make mistakes and I'm sorry for what I did."