NEWS
VIDEO: Joaquin Phoenix & Diddy Talk Money in 'I'm Still Here' Clip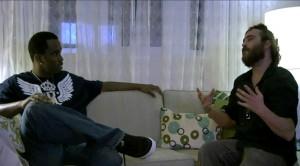 In Joaquin Phoenix's documentary I'm Still Here, the aspiring rapper sits down with Diddy to ask him to produce his album. Watch Diddy's reaction after the jump!
OK! GALLERY: CASEY AFFLECK IS STILL HERE, EVEN IF JOAQUIN ISN'T
In the film, Joaquin makes his way to a meeting with Diddy after debating what to call him by.
Once they meet, Diddy asks Joaquin if he has any money to make the album and Joaquin explains that he has a studio set up in his garage.
Article continues below advertisement
"See, that's the motherf***in' problem when people try to do things, they don't do it the way they do it for their own industries. When you go make a movie… you got money to make a movie, right?" Diddy answers.
Joaquin explains that he wants it to be "like a place of true exploration" and Diddy interrupts, "Can you do that in acting?"
The actor says he that as an actor he does because you're shielded, so it's a different thing.
OK! NEWS: JOAQUIN PHOENIX POSTER BRINGS BACK THE BEARD
And that's when Diddy is really set off!
"No, that's not a different thing. Lights, right? Lights, motherf***er, lights!," Diddy says. "Craft services, trailers, makeup, hair, DP, gaffers. Same thing. Studio, engineer, me. ME. Speakers. Do you have any money?"
"How much do you need?" Joaquin asks and Diddy answers, "How much do you got?"
One laughs, the other doesn't!