NEWS
VIDEO: Jon Stewart Takes on 'Jeopardy!' Contestant Watson the Super Computer!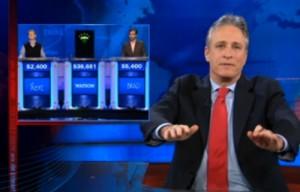 John Stewart has realized that computers may be smarter than humans. The comedic TV host tackled Jeopardy!'s newest champion, Watson, IBM's artificial intelligence computer program who in a three-day stint trumped reigning Jeopardy! champs Brad Rutter and Ken Jennings.
"I can't believe it. They're letting computers play Jeopardy! now. Apparently they have run out of human contestants to play Jeopardy!," he quipped during his opening last night on The Daily Show.
Article continues below advertisement
OK! NEWS: DAY 2 OF WATCH WATSON — COMPUTER DOMINATES COMPETITION!
"He Watson won $36,000...Oh yea someone is going to get rebooted tonight...or whatever computers do," he continued.
While he realized computers may be smarter than humans, the satirical host also came to the assumption that humans are smarter than politicians.