NEWS
VIDEO: Justin Timberlake's Bizarre Mother's Day Gift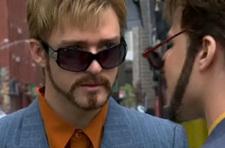 Looks like Justin Timberlake and Andy Samberg have done it again.
This time, the duo who bought you the ultimate romantic gift suggestion with their video for "Dick in a Box," have reunited to share their thoughts — and a lot more — in their latest Saturday Night Live clip, which aired for the first time this past weekend.
In a bizarre — and somewhat stomach-churning — celebration of Mother's Day, the thoughtful lads have ditched their infamous boxes and are showing a little bit of love for the mothers of the world... well, more specifically, each other's mom.
Article continues below advertisement
That's right, Justin and Andy offer to romance the other's mother, played by Hollywood hotties Susan Sarandon and Patricia Clarkson.
Justin was so proud of the video that he and girlfriend Jessica Biel at Lucky Strike Lane's Luxe Lounge in NYC, where they were joined by SNL star Kenan Thompson as well as Gossip Girl couple Blake Lively and Penn Badgley.
<object type="application/x-shockwave-flash" data="http://widgets.nbc.com/o/4727a250e66f9723/4a07ea0e96936862/4a070b177aa6fea8/553682d0" id="W4727a250e66f97234a07ea0e96936862" width="384" height="283"><param name="movie" value="http://widgets.nbc.com/o/4727a250e66f9723/4a07ea0e96936862/4a070b177aa6fea8/553682d0" /><param name="wmode" value="transparent" /><param name="allowNetworking" value="all" /><param name="allowScriptAccess" value="always" /></object>