NEWS
'DWTS' Watch: Kate Gosselin and Tony Dovolani Have a "Breakthrough"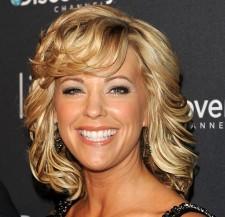 Olympic gold medal winning ice skater Evan Lysacek and his partner Anna Trebunskaya ruled Monday night on Dancing with the Stars. But all eyes were on Kate Gosselin after the shocking news that her husband Jon plans to challenge her for custody of their eight children.
But she rose to the occasion, as partner Tony Dovolani guided her through a respectable tango. Although the single mom still got the lowest score of the night, judges proclaimed that, at last, Kate seemed to be getting the hang of learning to dance.
Article continues below advertisement
OK! NEWS: KATE'S LAWYER: "JON CLEARLY DOESN'T KNOW WHAT HE'S DOING"
On a night in which the couples were given two scores — one for technique and the other for performance, Kate and Tony received a total score of just 32 out of 60. But for Kate, it was a victory.
She told OK! backstage, "I won the game, in my book. I learned this dance in two days and I love it. Something clicked this week. It was kind of going through the emotions the first couple of weeks and now I'm like, to Tony 'oh, my gosh. Teach me more. I'm ready.' "
OK! NEWS: JON IS DEFINITELY "OPEN" TO STARRING WITH KATE
Tony said, "We've had such an incredible breakthrough." And, referring to Kate's custody situation in a veiled way, the longtime DWTS pro said, "she got some interesting news in the beginning of the week that was mentally extremely challenging."
But Kate didn't buckle under pressure, he confided: "I'm proud of her. She worked harder than she ever has for me. She was like an Energizer bunny. I was amazed we were able to do this. I'm excited about the future."
Article continues below advertisement
OK! NEWS: JANE SEYMOUR SYMPATHIZES WITH KATE GOSSELIN
Kate admitted her week had been "very challenging. There was a very dark section this week."
When asked by OK! to directly address the custody controversy, however, Kate said, "I don't think this is the place to talk about it. I'm coming off my high of dancing and I want to stay there for now."
Kate even smiled that she had told Tony before her performance that she's feeling great physically: "My muscles are standing out." She said of her eight kids that she had called them before the show: "I talked to them a half an hour before I came out and they were waiting to eat their popcorn and watch me on TV. They're awesome. They're doing great in school. They're happy kids. I miss them. I love them. I'll be home soon!"
Article continues below advertisement
The famous mom had further reason to smile because judge Bruno Tonioli, who had lambasted the reality star in previous weeks, said her dance was "a step in the right direction." And Len Goodman told Kate it was "your best dance so far."
OK! EXCLUSIVE: KATE GOSSELIN'S DANCING DILEMMA
Meanwhile, Evan and Anna continued their run of great performances, getting the night's leading score of 52 out of 60 for their tango, which judge Bruno called, "strong, powerful."
The Olympian told OK! after the show, "We felt great." Evan, who also performed across the country with Stars on Ice this week, said, "We were excited to get back to L.A. with our dancing family and deliver. Every week we're improving."
OK! NEWS: ERIN ANDREWS RECEIVES GUN THREAT IN THE MAIL
And Evan did it all on two broken toes! "I'm skating every night and dancing all day so I don't have time for them to get worse," he confided. "I need to be really conscious of taping and icing them."
Article continues below advertisement
The other front runners, Nicole Scherzinger and partner (and OK! blogger) Derek Hough, landed in second place by getting a total score of 50 for their rumba. It was a slight comedown for the Pussycat Doll, as judge Carrie Ann Inaba called her out for being "nervous, quivering." But her loyal pro Derek told OK! after the show, "I was very pleased with our performance. I know what feels good."
OK! NEWS: JAKE AND VIENNA HAVE FUN SOAKING UP THE SUN
Pamela Anderson and her dancer Damian Whitewood continued their success with the judges, getting 47 out of 60 for their rumba which Carrie Ann raved was "beautiful, magic" and judge Len dubbed understated sophistication.
Although Pam had a previous commitment and couldn't give interviews after the show, Damian told OK! "Tonight was great. We got high scores and we're moving on up. I thought she was more relaxed, a bit more confident in what she was doing and she had the sexiness, the charisma."
Article continues below advertisement
OK! NEWS: DEREK HOUGH'S OK! BLOG: SAILING AWAY WITH A STRONG SCORE
While news surfaced before Pam danced that she was being accused of owing $493,000 in back taxes, all seemed well on the dance floor for the former Baywatch babe.
"She hit the first couple of elements," Damian recalled. "The eye contact was there, the chemistry was there and we flowed on to the end. We nailed the ending." Pam even did the splits! "I knew she could do that. I knew she was flexible," her dance partner smiled to OK!.
OK! EXCLUSIVE: LAST WORD WITH CARRIE ANN INABA
"Rehearsal wise, she's 110 percent committed," Damian revealed. "She's having fun, she's learning something new. She's learning fitness because she says she doesn't work out and all these things are coming into it. It's fantastic to be working with her.
"Her kids are too busy to come with her to rehearsal — they've got water polo and lacrosse and they're at school and as soon as we're done with rehearsal, she's taking them where they're going. They have a great lifestyle, they're running on the beach and they're great, grounded kids."
Article continues below advertisement
OK! EXCLUSIVE: DANCING WITH THE STARS HOW THEY GOT FIT
Chad Ochocinco also had a strong performance, as he and his partner Cheryl Burke's sexy rumba got a 44 out of 60, with judges calling it the football star's best dance of the season.
But Erin Andrews, with her partner (and rumored boyfriend) Maksim Chmerkovskiy by her side, couldn't hide her disappointment after garnering only 39 out of 60 points for her tango and hearing judge Carrie Ann sigh, "Technique got the best of you."
OK! NEWS: BROOKE BURKE PICKS DWTS FAVORITES
Erin told OK! "I'm ticked! I'm not a happy camper when my team loses and to me, this is like a loss and I'm pretty fired up right now." The ESPN reporter, who suffered a muscle spasm in her back during rehearsals, said her physical condition is "fine." Erin was still so worked up about the low scores, she admitted, "I don't even care about my back."
Article continues below advertisement
Maks said of the judges, "I had no clue what they were looking at." But he added, "I don't want to sound like we're bitter — we're not. I hope the viewers enjoyed it. She did great."
OK! NEWS: TONY DOVOLANI ON KATE GOSSELIN SPAT: "I CALLED MY FATHER TO APOLOGIZE"
The Bachelor Jake Pavelka and his partner Chelsie Hightower received 38 out of 60 for their tango. Although he stumbled during the dance and got mixed reviews from the judges, he was praised for attacking the tango — and Jake was typically upbeat backstage.
"Overall, I have nothing to hang my head low about," he said. "We got it!" Of tripping over his feet, he told OK! "I was so into the performance and into Chelsie that I got a little excited and stepped on the edge of the shoe — and they're shiny and slick."
OK! NEWS: JAKE PAVELKA FINALLY GETS A NEW WARDROBE
Niecy Nash and her pro Louis Van Amstel's rumba got criticized by all three judges. They came away with a total of 36 out of 60 for the dance, which was a tribute to her murdered brother, Michael.
Article continues below advertisement
Judge Bruno said Niecy looked like she was in a trance during the dance. Niecy explained after the show, "My performance wasn't for the judges tonight. I wanted to dedicate it to my brother. My mother was here to see me dance."
OK! NEWS: SHANNEN DOHERTY ON DWTS ELIMINATION: IT'S FATE
Niecy told OK! that growing up, she, her mom, and brother Michael were "like the Three Musketeers. There are days when it is still extremely hard. One thing my mother says all the time is I so wish he was here to see all this," meaning Niecy's successful career on Reno 911, The Insider, Clean House, and now, DWTS.
Former All My Children star Aiden Turner, with partner Edyta Sliwinska, said, "We're disappointed with the judges' scores, but we gave it our all." Their rumba only received 33 out of 60 points, second to last, just above Kate Gosselin.
OK! NEWS: HAILEY GLASSMAN MOVING TO LA FOR NEW REALITY SHOW
Aiden didn't agree with judges' comments that he was awkward: "I actually went for it," he said. "We did everything we could." Although Edyta said she's seen a lot of improvement in Aiden, the pro dancer admitted, "we got very low scores and we're scared we might be going home."
But will he? Watch Tuesday night to see who gets eliminated from Dancing with the Stars!
By Carole Glines