NEWS
VIDEO: Kendra Talks Sex Tape, Begs "Don't Press Play"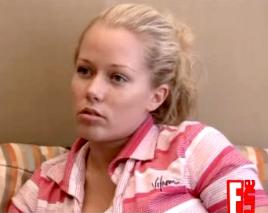 In a sneak peek of the season finale of Kendra Wikinson's reality show, the new mom opens up about her sex tape scandal, which OK! exclusively revealed, that is hitting the Web today.
OK! GALLERY: KENDRA WILKINSON'S SCANDALOUS SEX TAPE STILLS
"It bothers me because people are going to judge me and stuff," Kendra explains on her show. "I just hope to God nobody looks at me like a porn star or something. I just hope they don't press play because that's not me. I mean, that was me, but that's not me now."
Article continues below advertisement
OK! COVER STORY: KENDRA'S SEX TAPE SCANDAL
"It broke my heart because how can you do that when I have a baby?" she says. "I have a kid. I have a husband. It just sucks. It's the hardest thing to deal with right now, and it's hard on Hank Baskett. It's hard on him because it involves another guy and it's hard on him because of our son."
But they're determined to move past it.
"He's doing a good job because he's understanding," Kendra says. of Hank "He's like, 'Kendra, we just have to hold our heads high because, yeah, we're going to get attacked, but we can't run. We have to hold hands and walk through this and face this fact.' It's going to be really hard. It's going to probably be the hardest time of our lives."
The season finale of Kendra airs May 31.
FOR KENDRA'S PLASTIC SURGERY TELL ALL, CHECK OUT THE NEW ISSUE OF OK! AVAILABLE EVERYWHERE THURSDAY!