NEWS
VIDEO: Khloé Kardashian Describes TSA Pat Downs as "Raping You in Public"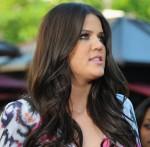 It may be inappropriate when Khloé Kardashian talks about where she like to spread mayonnaise on her body, but she may have now gone officially too far when she compared going through airline security to being raped.
OK! GALLERY: THE KARDASHIAN'S KEEP UP KONFIDENTIAL APPEARANCES
Khloé appeared on Lopez Tonight last night and shared her thoughts on TSA pat downs to George Lopez.
"They basically are just raping you in public," she said (via Radar Online). "I got asked the other day, do you want to go for a screening or get patted down. I don't want that X-Ray to see everything, honey."
Article continues below advertisement
"The people are so aggressive," she added. "It's like, 'Chill out, you didn't find anything on me yet, calm down... They say, 'OK, I'm going to be patting you down and I'm going to be touching the crease of your ass."
OK! NEWS: KIM KARDASHIAN HIGHEST PAID REALITY STAR; SISTERS MAKE TOP 10
"She might not have been TSA," George responded to her comments. "She might have been a lady from the bar."
Gloria Allred has already spoken out on Khloe's comments telling Radar, "I believe that the word should not be used loosely to describe security measures at airports or at any other place. I think that many victims of sexual assault who have been the true victims of men who committed that violent crime against them and who have been forced to suffer the physical and emotional harm that results from that crime would be insulted that the term would be used in the way that Ms. Kardashian used it."
Watch Khloé's interview with George below!
What do you think of Khloé's remarks? Wonder if Kristen Stewart has an sympathy for her after her similar incident!