NEWS
VIDEO: Lady Gaga & Yoko Ono Perform Together in L.A.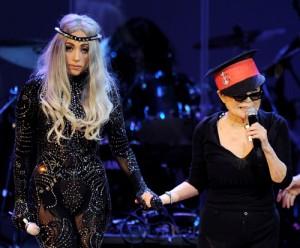 Lady Gaga and Yoko Ono joined forces this weekend during the second night of the We Are Plastic Ono Band concert series at the Orpheum Theater in L.A. Yoko and the late John Lennon's son Sean Ono Lennon joined the duo on stage along with Jane's Addiction frontman Perry Farrell. Gaga and Yoko performed a pair of songs together and the 24-year-old singer saluted Yoko, 77, for her feminist ideals.
"Thanks for being so brilliant and such an inspiration to so many women," Gaga said, via MTV News.
Article continues below advertisement