NEWS
VIDEO: Mario Lopez's an 'Extra Lean' Father-to-Be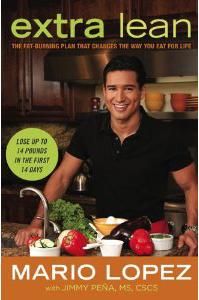 While Mario Lopez is preparing to be a father, he's also working to help others lose weight without going to the gym with his new book, Extra Lean.
OK! NEWS: MARIO LOPEZ HAS EXCITING NEWS
"This isn't a diet book. Diets don't work. This book explains why you shouldn't be scared or guilty about having food," Mario explained to PopEater. "The only exercise I focus on in the book is when to push away from the table. If you really want to lose weight, it's all about food."
Article continues below advertisement
Mario's book says you can "lose up to 14 pounds in 14 days," which he knows is a challenge.
"It's sort of The Biggest Loser-type numbers. It is a lofty goal, but I want people to strive for the best. It is achievable with exercise. This book also helps educate about food and not be scared of it. There isn't a reason to feel guilty. My book is really going to help people. Once you realize how easy it is, you'll want to do it."
OK! NEWS: FOURTH STREET LIVE! CELEBRATES "DERBY WEEK"
And he's starting by proving it works to his Extra employees.
"I feel great to see a lot of the staff losing weight," he said of how he's testing his book on the staff. " I physically see it, and they're looking good. They are broken up into two teams. After a month, I'm taking the winning team that has lost the most weight out to a big cheat meal dinner."
Article continues below advertisement
It's also inspired him to write another book — of a different kind.
"I was actually looking for a book for a first-time father and couldn't find one. I've decided I'm going to write one of my own," Mario explained. "Guys want to help, too. There are tons of book for moms, but dads want to know what's going on with the lady and the baby both emotionally and physically."
Mario comes from a big family and hopes to have one of his own.
"I hope so. I'm learning a lot about how difficult it is just to even get pregnant and all the things that can go wrong," Mario said. "I have a new respect for that whole process and miracle of birth."